Anzac Day is April the 25th every Year. It is traditionally a New Zealand and Australian Affair but it is becoming more well known amongst other Nations now with the original point of Contact and the Start of the Legend being Gallipoli Peninsula in Turkey. I have been making a Trip to Kanchanaburi quite regular for the Past 7 or so Years. I actually Missed last Year So 2012 it was time for a Return. To make an Enjoyable Ride out of it I decided to take My time over a few Days. I Rode My Triumph Tiger, Joining Me was Australian Shane an Australian Ex Serviceman on His new Triumph Tiger 1050 and West a Canadian on His Ducati Multistrada.
Day One, 23rd:We took an easy Ride down to Nakhon Sawan and checked into the Pimarn Hotel. This place has actually gone backwards since the last time I stayed here 2 Years ago! No More Country Pub or Disco upstairs? Disappointing but still found a few Beers locally. The Two Tiger 1050 and One Multistrada outside Our Hotel.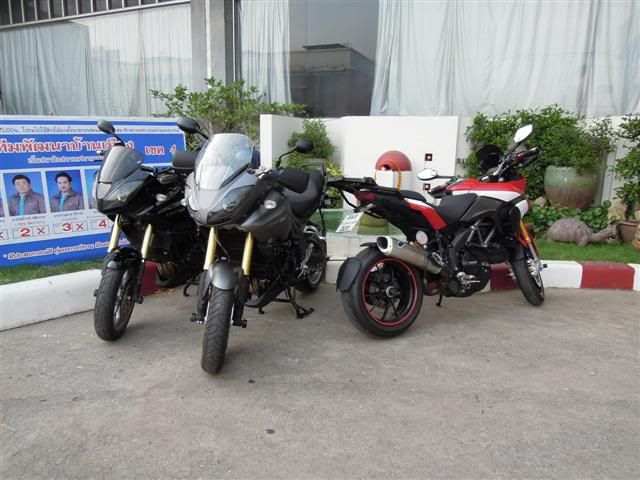 Day Two, 24th: Easy morning, Breakfast and We were then meet By the Aussie's, Richard & Paul from Phichit on their Harley V-Rods Richards is Supercharged!!!


They are also Pretty Noisy!


It was a Hot Day so We went direct to Kanchanaburi and Checked into the River Kwai Hotel. Unloaded and down to the Swimming Pool to Cool down and have a few Beers. We were eventually joined by a couple of other Guys from Bangkok on Harleys and friends of Mine from Australia and Phuket! It developed into quite a Night!
Day Three, 25th ANZAC DAY: I never bothered with the Dawn Service as this event gets bigger every Year and last time I couldn't even get close to the Ceremony so Breakfast then headed down to the Cemetery for the Service there. There was quite a line of Our Bikes outside the Hotel.


They go to a lot of Trouble for this so Hats off to the Organisers!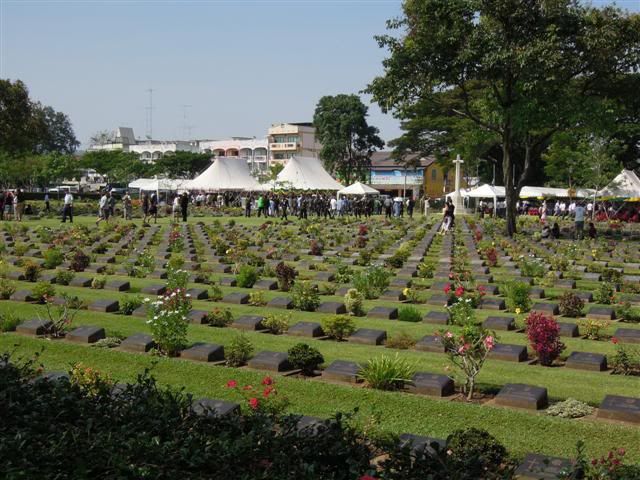 My Mates Terry and Geoff.


The row of Wreaths before the Ceremony.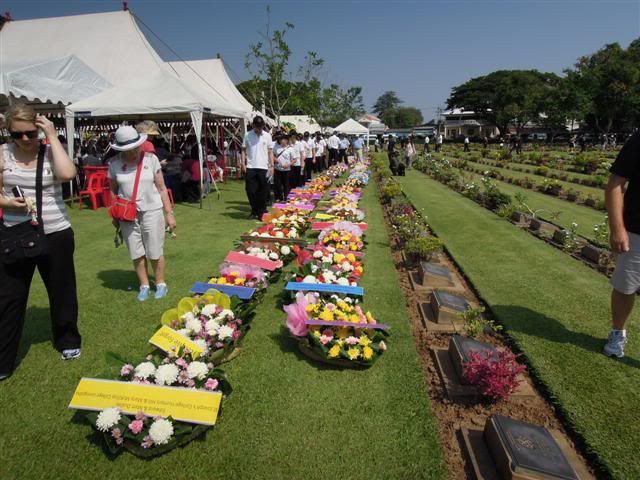 The opening/start of the Ceremony.


Some of Our Group looking on.


Now I will try to insert some Videos so hope it works?
This was at the Opening, Bag Pipes, A Nice sound!
embedded by Embedded Video


A Surviving Digger addressed the Crowd. There were only 2 Ex POW present, They have to be getting on in Years?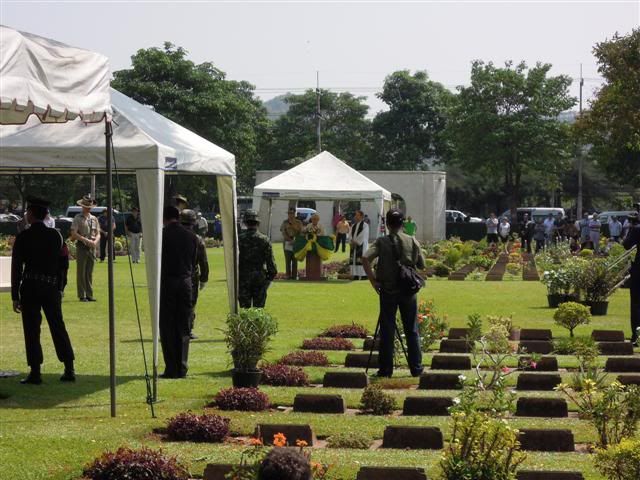 At the End of the Ceremony had a Couple of Thai Buglers play "The Last Call to Post" A moving end to it.
embedded by Embedded Video


Then it was off to the Gardeners Shed for the Traditional Aussie Sausage Sizzle and Beers!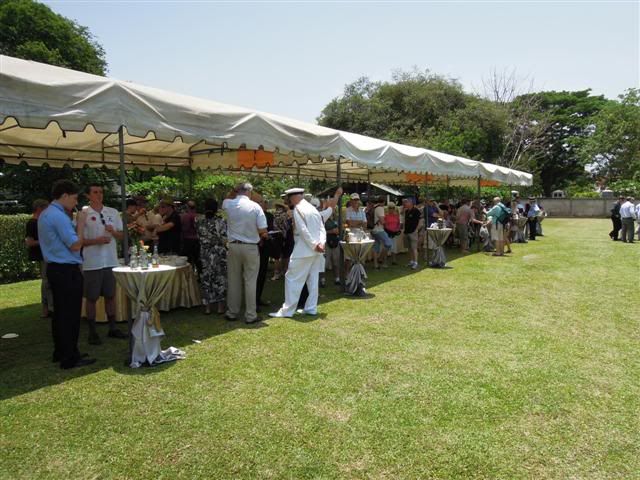 This was a Nice affair and time for a Chat and to meet people. Unfortunately some of the Guys had to go back for Work the Next Day so Our Group Number was halved! It Was Funny when Richard Left on His Blown Harley Roaring up the Street hitting the Rev Limiter with Wheel Spin through the Gears, The Harley Roar Echoing through the Trees. Most of the Congregation looked to see where it was coming from? Ross made the Comment, "That's enough to Wake up the Dead", The Humour wasn't lost amongst the Diggers present and gave Us a good Laugh!
I am Not sure but You may have to have been brought up in either New Zealand or Australia to fully appreciate some of Our Humour even in times of Adversity or Somber times!
The Flags Say it all!


The Cenotaph surrounded by Wreaths after the Service.


After this Myself and Shane caught some Luxury Transport back to the Hotel.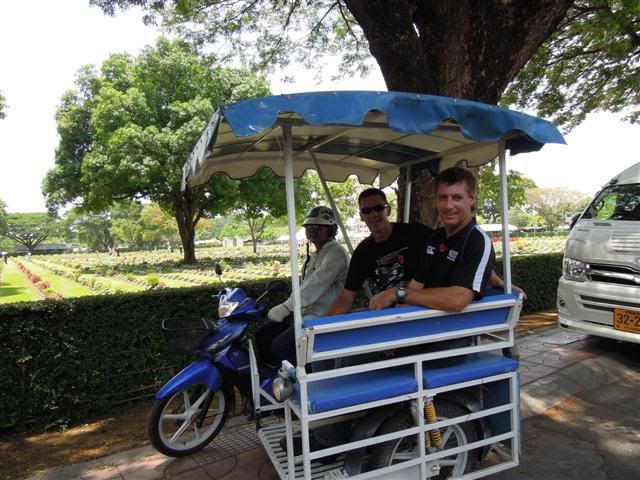 Time for another Swim and relax before heading down to the River at 5pm for a few Sunset Beers then it was time to Hit the Bar Street. The ANZAC's were out in force with all the Bars doing a good Trade! One Bar had another Group of Bikers: http://anzacriders.com/ . These Guys were having real Fun. The Local Bar Owner got out His Scooter to entertain them!
embedded by Embedded Video


This was obviously not Successful so One of the Anzac Riders got out a "Fat Bob" to show how it should be done! A shame in the Video it didn't look around a bit more as the Entire street was full of Smoke and any Traffic had to stop till it cleared!
embedded by Embedded Video


So needless to say in the Wee Hours of the Morning We headed back to the Hotel!
Day Four, 26th. A straight forward up and off Day. Took the Road straight up to Nakhon Sawan then cut right straight to Phitsanulok. It was a Really Hot Day with a Digital Read out at one of the Gas Stations indicating 42 Degrees! We checked into the Topland Hotel and straight to the Pool again. Evening more of the Same until 10pm then it was up to the Club on the 4th Floor till 1am before I called it a night!
Day Five, 27th. Straight Home and the End of another trip!
Hopefully many more to come!