I thought i would Post this just to Show everyone we Don't Just Ride Off Road Up here in Northern Thailand!!!, In Fact i just went on a Quick 365km Ride Today, Myself on My Tiger 1050 and My Good Friend Tim on His Trick CB1300. Anyway this Post is about the Trip to Burapa "Pattaya Bike Week" This is one of the Biggest and Most Popular of All the Bike Weeks held In Thailand, And There are Quite a few of them!!! Enjoy!!!
Wednesday 13th,
I left Home in Mae Rim just after 6am and Meet up with Robert at His house in Green Valley. From there we run down the Highway to the Petrol Station where we meet up with the others.
Meeting at the Gas Station.


There was Myself on my Triumph Tiger. Robert on His BMW Tourer, Mike and His Wife on His Harley Electra Glide, Richie on His FatBoy, Shaun on His 883.

A Nice cool morning so nice Riding  Down to Lampang then on to 1 down the Main Drag. Stopped for lunch.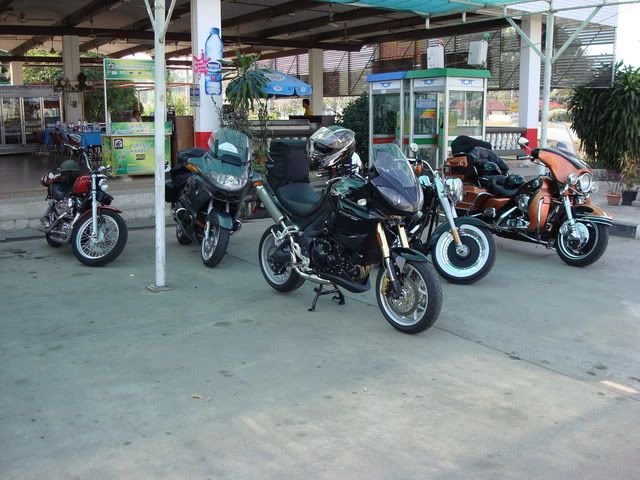 From here it was an Easy uneventful Ride not much Traffic, Good Road till just before Nakon Sawan By-Pass we caught up to a Massively Loaded Truck and as Robert Put it Looking like the Michelin Man. Anyway as we were Passing it thinking i wonder what it is carrying?  we happened to go beneath an Over-Pass Bridge, Bad News it was 1 Foot Higher than the Bridge!!!  So it Proceeded to Rip the Top off the Load and Dump it over the Highway. Richie got a Covering and i was Behind Him,  Everything just disappeared in a Cloud of Dust, I had no time to Brake so just tucked down on the Tank and hoped there was nothing to Big Coming my way. Luck was on my side and I emerged into Daylight again still in one Piece!!! Turned out it was Rice Husk or sawdust. light and Dusty, No Damage. The Truck was pulling to the side of the road as following vehicles took evasive action in all directions to avoid the White out. I pulled up to the Driver and gave him the 1 fingered Salute along with some other Gestures of Happiness. Not a situation i would care to repeat. Shows how easy a Situation can change for the Worse. Would have been a Disaster if it had of been a Different Load.
After this pretty uneventful, had a few Navigation problems finding the turn off to Ayutthaya but got there in the end, but no Hotels available so ended up staying at the "Woraburi Ayothaya Convention Resort" Nothing special and over priced but after a Shower and a couple of Beers we weren't worrying about that. We all piled into one of those little Tuk Tuks with the Steering wheel and drove off to the local Sleaze area to a western Style Pub. We had a Great night, lots of laughs.Thursday 14th.
Up early for the Buffet Breakfast then into a Tuk Tuk again to act like a Tourist and take a look around. Nice if you like Old Bricks and Elephants?  There was a few things worth seeing though!The Old Bricks.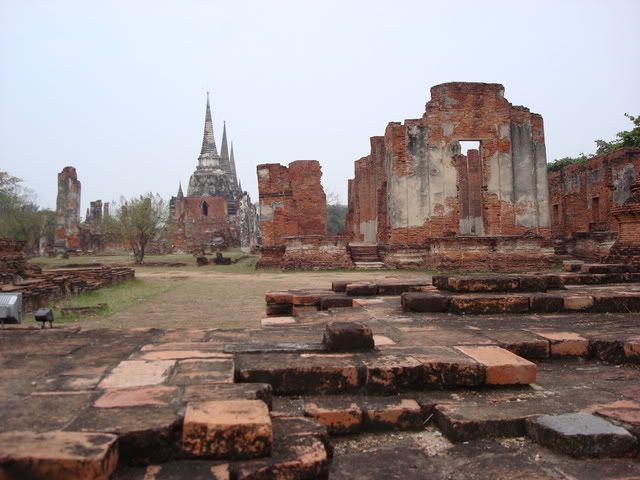 Loads of Japanese Girls on Elephants.


Also came across a bunch of University Students doing some Study with Water Rockets which was quite impressive. The went a long way and had some ingenious engineering on release systems etc.
Here is on of them before Launch.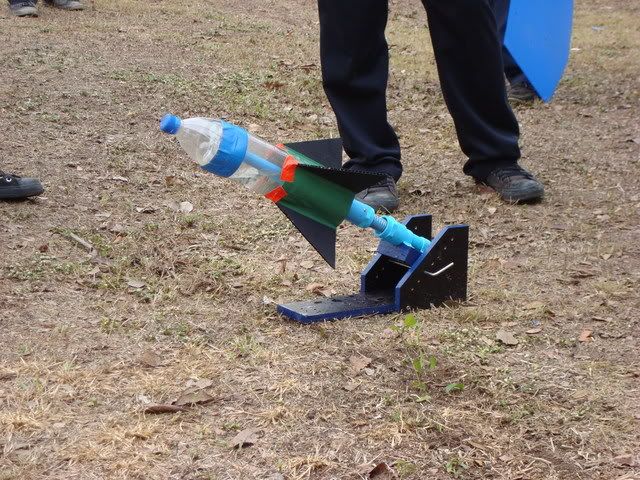 Back to the Hotel Checked out and on the Road again. Took the 309 to the 352 till 304 then 314. This Road was a truck By-Pass so slow going and not a great deal of Fun!!! Eventually we got onto 3 then after Chonburi crossed over to 7 for the Run down to Pattaya.. We checked into the Diana Inn in the Heart of Sleaze City. They did provide Good Parking and Security for our Bikes though.
Tucked away for the night.

Showered and out for an Early Beer at the nearest bar which developed into an all night session  The only Break was for Indian food and when David Lek Turned up from Chiang Mai about 11:30pm on His Trusty BMW. Of Course we had to show him around and never turned in till 3am. I can't say too much on what went on as you can understand ?
Friday 15th
I was up early and meet Richie at breakfast so afterwards we decided on an early Ride to check things out. Ended up at Wranglers for a look then on to Give the Bikes a Clean and remove the remaining Rice Husks!!!
Triumph getting a Soapy!!!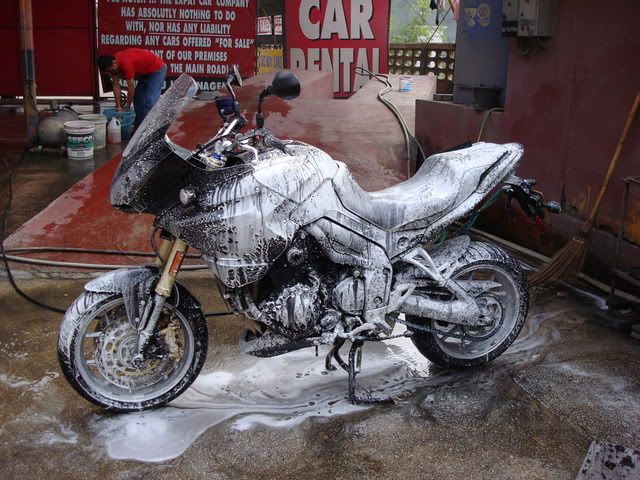 Back to the Hotel at 11am to meet the others and escort them to our Hotel: RS-Sea Side Hotel on Jomtien Beach. After Checking in we took a look at the Power Station and had the rest of the Bikes Cleaned then did some looking around at the Car Yard with the Ferrari's etc and Looked at the Boat Lagoon for Robert. Afternoon called into the Burapa for a look. had good look around and there was already alot of Bikes and People around. acouple of Photos from the First day:
This Custom Fat Boy was well done i thought.

This was a Very Nice Model also i thought!!!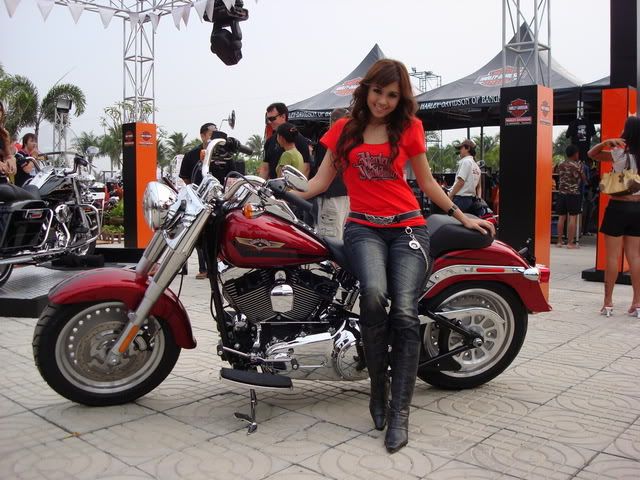 Richie getting info from a Model (Tel Number!)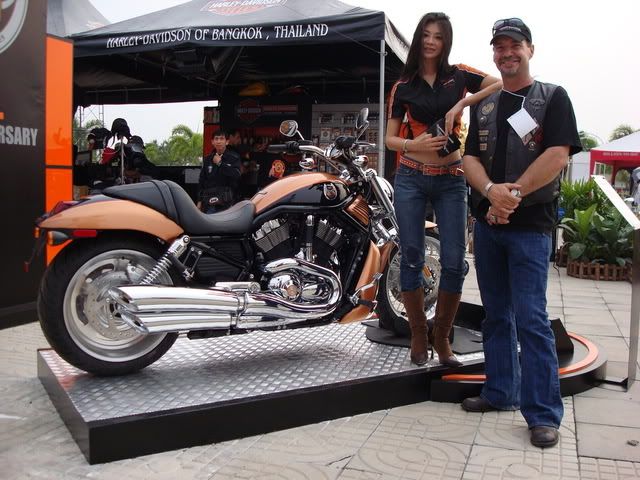 Back to the Hotel just on dark and Meet up with a few Guys including Big Robert from CM so a few Beers turned into another Big session!!! Ended up down the end of Jomtien checking out the Bars and the Go-Go, which by the way has Great Music Videos playing but again can't say to much!
Saturday 16th
Up early again and it was Raining!  Had breakfast at Yorkies and just hung out till Franz from Eastern Seaboard turned up so we all had lunch which He again insisted on Buying for everyone. I had to do a little work and after the weather had cleared we were off again to the Burapa. Loads more Bikes today, Packed!!! Hard to believe there are that Many Harley Davidsons in Thailand. Amazing!!!
A few of the Bikes.

Don't know what it is with Thai's and Indians but loads of them dressed up, Even built Tee Pees on Site.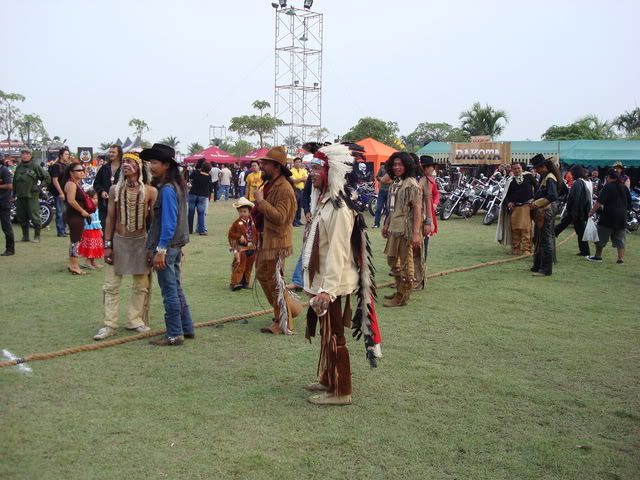 Some of the Thai Built Choppers. These Bikes Flexed like Hell with the slightest Bump.

There was some really smart designs and thought gone into some of the Bikes we saw and you have to admire some of the Work done on Little or No Budget. As My Friend "Big Eddie" from Phuket said: "Anyone with Money" can Buy a Harley but these Guys have gone to a lot of Trouble making something for Nothing. Judging from the Huge Amount of New Harleys Present the "Anyone with Money" Category was well represented at the Show!!!
Anyway early evening back to the Hotel for me and David Lek Parked up the Bikes and out for the night. Ended up just around the corner from our Hotel at a Small Bar. Fantastic Night. Got to watch the Continuous Stream of Harley's coming and going between the Show and Beach road as well. Finally called it a night about 1am.
Sunday the 17th
I was up at 5am packed and ready to go early as was planned but we never actually left till 6:45am and even then it was without Shaun who was M.I.A. So it was just 4 Bikes as David Lek was heading to Bangkok. We decided on a different route so took the 331 up crossed over to the 319 past Prachinburi past Saraburi up 1 to Lop Buri. The first part is a bit messy with road works and Industrial traffic but once you get through that it is plain sailing. I won't mention any names but a couple were feeling a bit under the weather so it was pretty slow going.
We stopped in Lop Buri at the Lotus. Me and Richie chose KFC for lunch (Bad Choice)while the others had Japanese.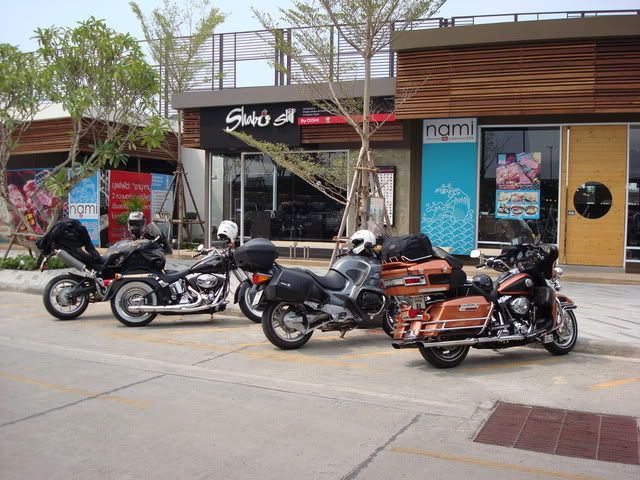 After this we did a little Tour around town as we tried to decide which Exit to take off the many Sign-less Round abouts??? We did get to see all the Monkeys running around and climbing over everything though in the middle of town. Eventually we were away again and after this it was pretty much Plain Sailing all the way up to Chiang Mai. Only Stopped for gas and snacks. Was an Epic Journey though arriving home about 7:30 pm so over 12 hour Trip. We never went Fast between 100 and 120kmh plus alot of stops but no Hassles and a Great Fun Weekend!!!
Thanks to Everyone.
I Must Say I Hope that Chiang Mai Bike Week (Weekend) can get a little of the Organisation going that Burapa Has!!! A Fine Event and i would be Happy to attend again in the Future. I am Sure some other Guys from our Ride or who we meet along the way can add something more to this Report so all the Best and keep well!!!
_________________
Cheers Ian