I Rode down to Pattaya for Burapa Bike Week and went a couple of Times once Friday and again Saturday. Show was Same Same and the Best Bike I saw there ( Besides My Triumph Tiger ) was this:
Screaming Eagle FAT BOB 110 Cubic Inches.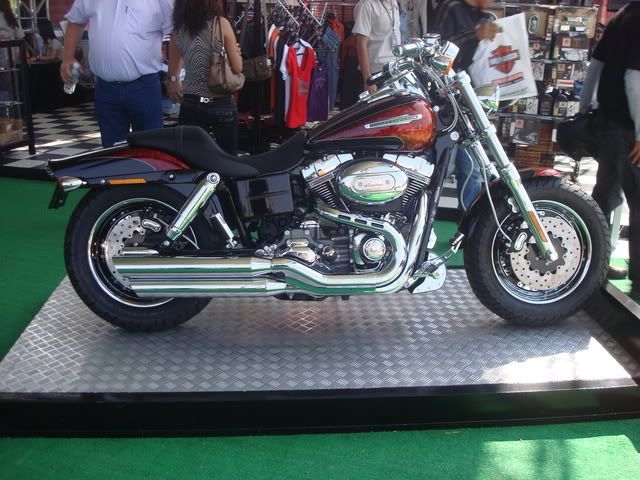 Standard a Fat Bob Costs 1100,000 Baht !
This "Screaming Eagle" Cost 1,600,000 Baht !!!
But it Looked a Huge improvement over the Original and had all the right Bits. I also Managed to Catch up with Suki the "Dream Chaser" and Yut. Ex: BritBikes. Yut was very Helpful on some Advice, Thanks !!!
While there I had a Meeting with a Local Legend Henry Who Owns the Flamingo Jet Ski Racing Team which has 3  World Champions in His Stable! He Showed Me around all His Toys and Trophy Room, Very Impressive! He also Let Me Have a Go on this Polaris!!!
This is an Incredible Machine and the Best Handling I have Driven. The Power is Fantastic out of the 760cc Twin Cylinder Fuel Injected Engine and Constant Power Slides in all Conditions are Easy. What a Blast!!! Top Stuff!!!
 Thanks Henry!!! 
I left Pattaya Sunday Morning at 6am to head Home and tried to Follow a Map i had been given on a Piece of Paper  I headed up the 331 to look for the 319. Sounded Easy But What a Bugger,  I encountered Heavy Fog and was down to 70kmh and had to Ride with My Visor up due to the Moisture in the Air!, It was like it was Raining!  Anyway i couldn't find this Road and Ended up Just Programming My GPS for the Fastest way Home! This took me back to Bangkok and By the Time i had arrived there I had Taken 3 Hours!!! Right I was on the Main Road Home and Knew the way so a chance to Make up Time. I opened the Throttle and amazingly I never Saw any Police on My Side of the Road all the Way to Chiang Mai and I was back at the X-Centre around 2 pm just 5 Hours from Bangkok what a Ripper Trip!!! Not Bad 700 kms in 5 Hours!!! Try that at Home and I would be in the Monkey House??? Sure Beats the 2 Days Traveling Down!!!
_________________
Cheers Ian
www.chiangmai-xcentre.com/xcentre-news