Ross from Power Station Harley Davidson Bangkok organised a Ride up to Chiang Mai for the Bike Week here so a few of Us from up here thought We would join in!
On the Wednesday Myself and Baz meet up with Hog Head at His House here.

A Nice Ride straight down the Highway to Mae Sot where We were to meet the rest of the Group riding up from Bangkok. Took Us 4 Hours and We were at Our Hotel the Centara Mae Sot. We arrived first so were showered and down to the Pool Bar for a few beers before the Rest arrived. Eventually We were all down by the pool.

We had quite a Session here before moving on to the Restaurant and Dinner? Or so We thought!!! The Food was of unmentionable Quality so needless to say no one actually got to eat but by then it didn't really matter as a liquid Diet seemed to do the trick! And We had Heaps of that!

At an unremembered Hour I got some Sleep and after a substandard Breakfast everyone started meeting in the Car Park. Our Harleys were in a couple of different lines.

Also in the Morning was a Substantial number of KTM Bikes parked up. I got talking to them and they were all from Malaysia including the Penang KTM Dealer.

Took a Group Photo of them.

The Dealer happened to Tell Me that they have a Factory in Malaysia assembling KTM and Next Year they will be Supplying the Thailand Market? He Claims under the Asian Free Trade Agreement the Prices here should therefore go down!!! Unfortunately I think they will have to Convince the Dealers here first to Lower the price as I doubt they will be doing that any time soon preferring to keep the prices up for the Hi So Status and Image that They all Crave!!! If They ever get past emissions and get a Realistic Price put My Name down I will take a Enduro 690 R, I won't be Holding My Breath waiting though!!!
So off We all went for what started out a beautiful Day and Great Roads for the first part of the journey! The Group pulled up for a Chat and a short break. Off everyone went again and immediately came into Road Works which then finished only for the Road to deteriorate into a Potholed obstacle course marked by occasional patches of Tarseal. This middle section heading to Mae Sarieng was pretty bad and Very Rough! The very last section into town was not so Bad so everyone was pretty happy to Relax over Lunch in Mae Sarieng once We all arrived!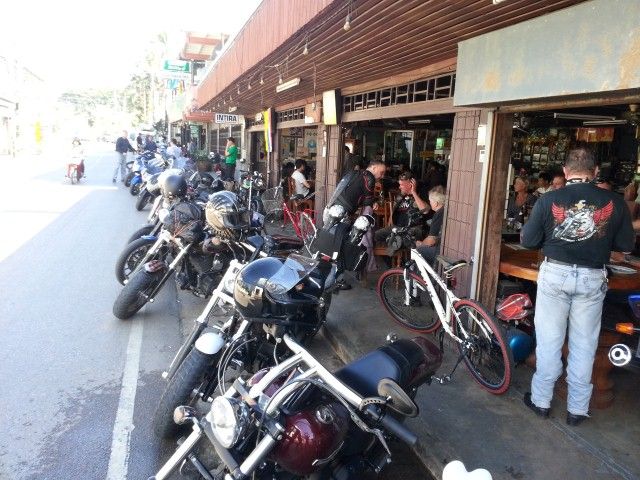 On the Road again heading to Mae Hong Son. By Contrast this Road was Fantastic. Our Group spread out a bit as the Riders enjoyed their own Pace. We happened to Pass the KTM Group along the way with each having Our own story worth retelling over a few Beers. Top Stuff!
We all arrived at Our Hotel in Mae Hong Son where We were meet by a few More Harley Guys from Chiang Mai. So Straight into a few Drinks was the Order of the day again. Hence the poor Picture Quality and lack of them!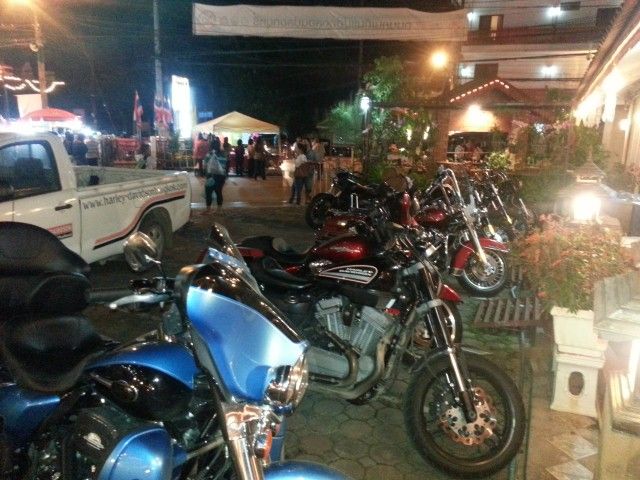 We eventually made it down to the Sunflower Restaurant by the Lake. George wasn't there but we certainly made a good effort to Support Him from what I remember and What a big Night!!! I won't go into all the Details and what time We eventually finished?
And so the next day it was off to Pai. A short Days Ride on a Wonderful Road! Once We got to Pai We all Stopped at the Gas Station, refueled and brought some Cases of Cold Beer and off to Our Hotel which was a way out of Town. Parked up, checked in and Beer O'Clock!!!

Around 2pm We decided to head into Town for a look around? Sounded like a good Idea at the Time, then someone suggested to get some Food at the Hamburger place! All Good unfortunately there was a Liquor Shop opposite with quite a range and another Bar opposite selling Cold Beer. This was at 2:30 so by 9pm, 4 bottles of Jack Daniels, a few other Spirits and Cases of Beer the majority still hadn't moved!!! different groups went off in different directions and I ended up at Be Bop which was Dead so We carried on back to Our Hotel and again as fate would have it there was a Thai Karaoke place at the entrance of Our driveway so more Hold ups!!! Another Hard Night had by some of the Crew! Next Day after a Slow start we all managed to get on the Road back to CM. great Morning again. We re-grouped at the lookout.

From here straight back to the X-Centre for Lunch. A few of the Guys were talking about a Bungy Jump but the only one Who actually fronted up in the End was one of Power Stations Harley Mechanics Jimmy! So Hat's off to Him He made it look pretty Easy. Paul took a Video of it.
embedded by Embedded Video


After this it was pretty much back into Town to Their Hotel and everyone did their own thing for the Next few days. It was Great Ride with a Real Mixed Bunch of Guys. Top Stuff and Hope I get to join in on More of them. Brilliant! Till the Next one!
Cheers Ian.