I had the Privilege of being invited to Join the Mabua Harley Davidson Thailand Tour this week. H.O.G. members Shipped 44 of their Harley Davidson Motorcycles from Indonesia. Power Station Harley Davidson of Thailand together with the H.O.G. Members of Thailand got together to Clear the Bikes and arrange the Trip from Bangkok up to the Golden Triangle down to Chiang Mai and around the Mae Hong Son Loop. I joined them for the Loop.
They arrived in Chiang Mai Wednesday Afternoon and stayed at the "Imperial Mae Ping" Hotel. I went in to meet the Group for Dinner.
Harley Davidson Parked at the Imperial Mae Ping Hotel.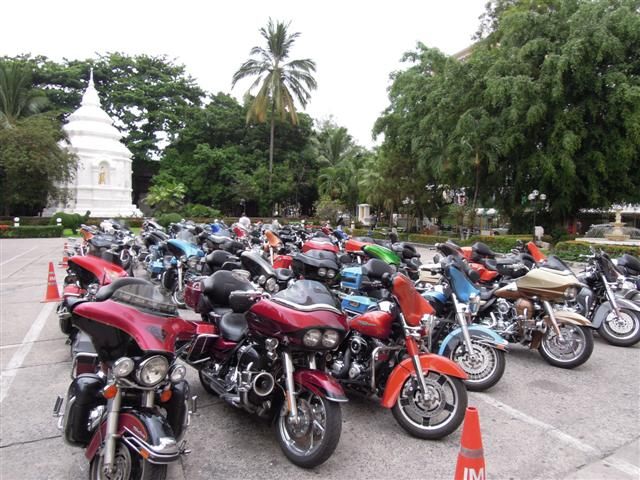 This Gentleman had just received His "Police Special" Harley Brand New and put it straight in the Container to Thailand so this was the first time He had ridden the Bike!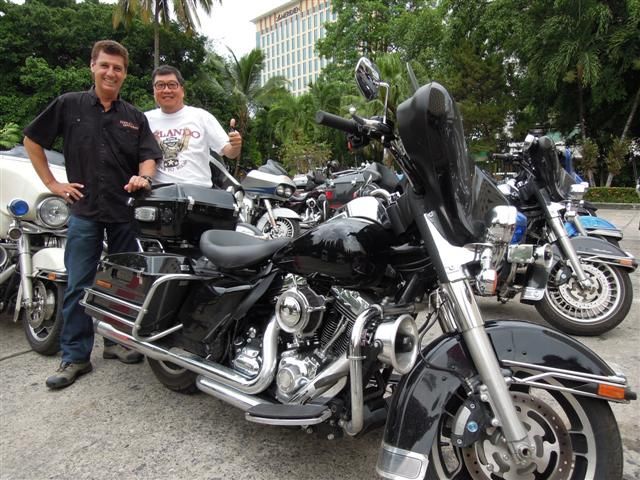 That Evening it Poured with Rain so I was a bit worried about the next Day which started looking pretty Dull but turned out Lovely! First stop was on the road to Pai at the Coffee Shop where You turn into Mok Fa Waterfall.

From here it was a run straight to the PTT station in Pai, Re-Fueled then went to the "Belle Villa" Resort for Lunch.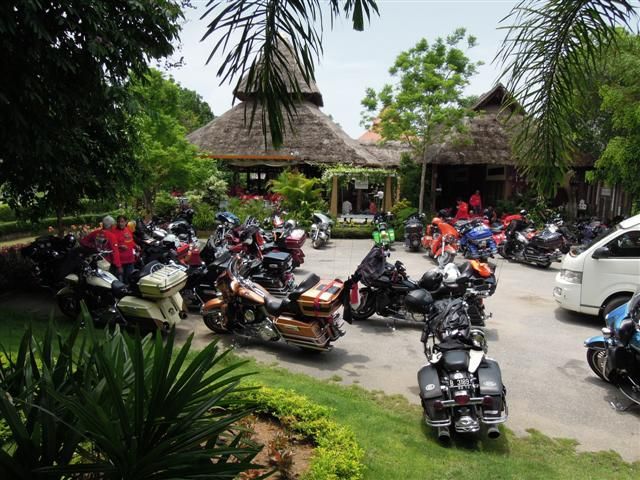 In this Photo You can see the Harley Davidson Bangkok support Van. They did a Great job taking care of everyone for the Entire Trip.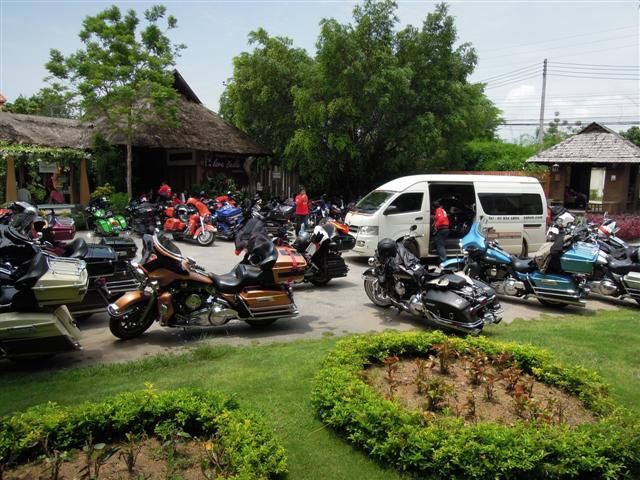 I was surprised at the Pace these Guys Rode, Really Fast considering they were all on Huge Bikes but I have to give them Credit for their Ability and Handling Skills! A few of the Guys said the Roads here in Thailand are Excellent compared to what they have to Ride on in Indonesia so that is one Reason!!!
After Lunch it was on the Road to Mae Hong Song. We never stopped till We got up to the Lookout just past Soppong. As We split the Group up into 3 sections We all regrouped here .
This Beautiful "Road Glide Ultra" is owned by David and He could really Fly on it !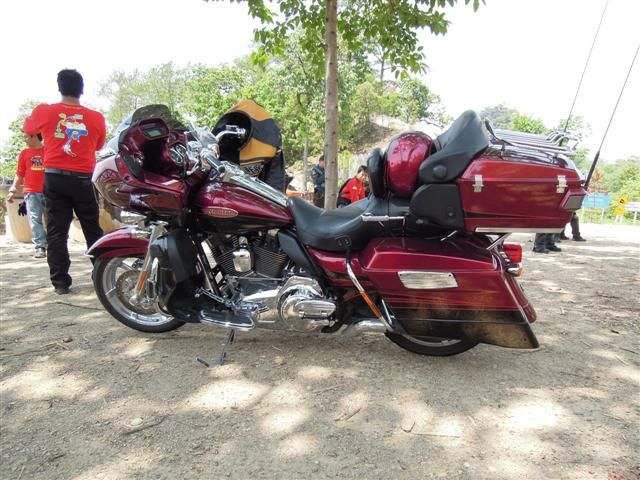 The Guy in the Black Jacket in the Front of this H.O.G Group is Djonnie Rahmat Who owns 9 Harley Davidson Dealerships in Indonesia and was one of the Main Organisers of this Trip and a Very Nice Guy!

I took a bit of Video of Our stop.
embedded by Embedded Video


From here straight on to Mae Hong Son. Re-Fueled again at the PTT. This is Bob Guthrie from H.O.G. Thailand who organised the Trip this end together with one of Our Police Escorts. With 50 Harley Davidson on the Road at one Time You can imagine a Police Escort is handy sometimes!!!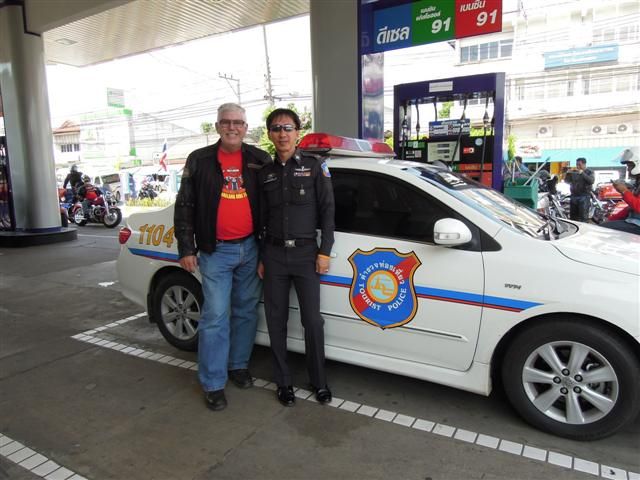 We then checked into the "Imperial Mae Hong Son" Hotel. They were set up for Our Welcome!

Quite a line up and imagine the Total Value of this Lot!!!

A H.O.G Tour Group photo before leaving the next morning.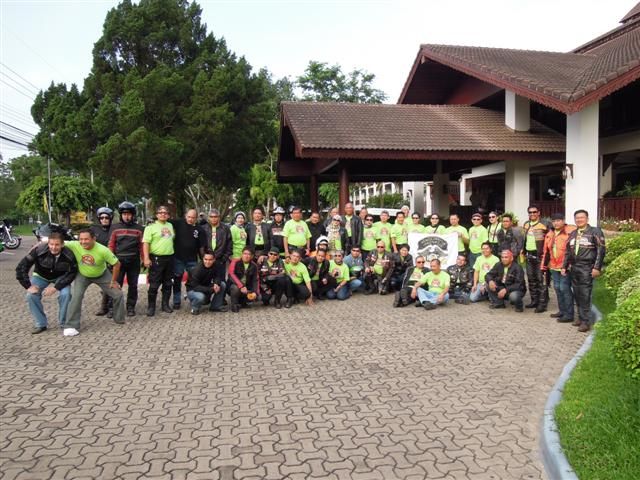 As You can imagine every Meal was a Fantastic Buffet at Class locations and these Guys really had it Laid on so I was Lucky to be invited for sure! We Rode down to Mae Sarieng where We Re-Fueled then had another Big Lunch before headed back to Chiang Mai for the Completion of their Tour. It was a Fantastic Ride which I really Enjoyed! Everyone had a Flight back to Bangkok booked for 6pm so H.O.G had arranged to leave all the Bikes at "The Office" Complex which is owned by a H.O.G. Member. Here the Bikes were Loaded back into Containers and start their Trip Home to Jakarta Indonesia! All the Riders Refreshed at "The Office" Complex which I must say is very Classy then headed for the Airport.
Here is David at the end of the Ride, A Happy Man!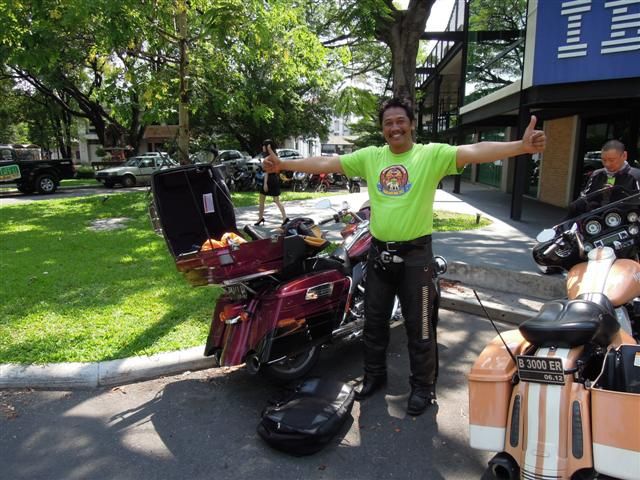 "The Office" Complex.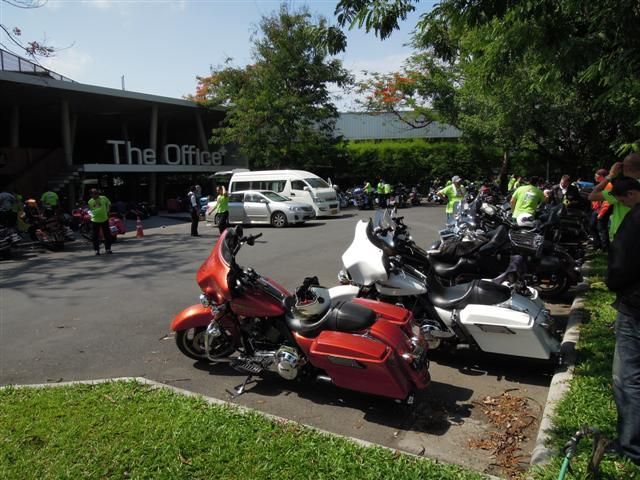 The Harley's awaiting their Containers in Chiang Mai at the Office.

And that was it! I said My Goodbye to New Found Friends and made My way Home. What a Unique and Fun Trip! And What an Experience and Noise Riding with 50 Harley Davidson in one Group!!! Fantastic Stuff!!! Cheers Ian