We left Chiang Mai on a Wednesday thinking More Days on the Road = more Parties and We were right! I forgot to bring My Camera so had to use My phone, hence the lack of Quantity and Quality!
Meet up at the PTT south of Chiang Mai.
Myself and Pikey on "Real Steel" Harley and Bonneville! Robert & Richard let the Team down both on Versys
Pikey & Robert.
Straight Run to Loei for the First Night were We started out at the Local Steak & Pizzas Run by Chris.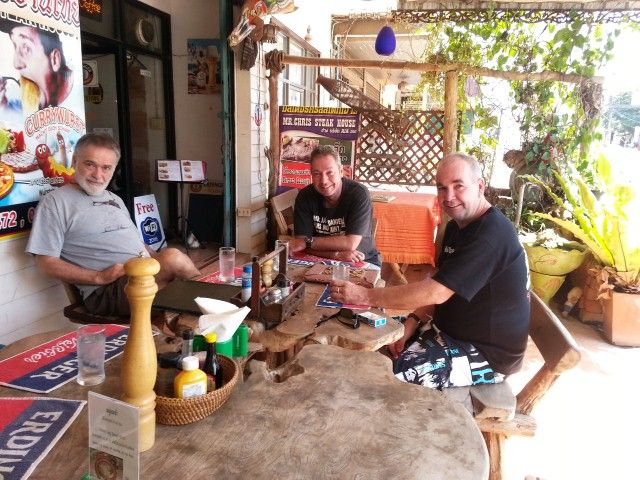 We attracted a reasonable Crowd of Local Bikers who turned up for a Drink and a Chat. A Great Night followed!
Thursday it was on to Udonthani where we happened to Run into a Number of Friends and familiar faces! So another Great Night Followed! No Photos of this Due to having to Much Fun!
Friday it was on to Khon Kaen. Easy Ride, Called into the Silver Star Shop and they had a few New Harley Davidson there. 2 of these Gold Sparkle Coloured 48

And a Yellow Road Glide.

A Big Long Night meeting People from Everywhere!
Saturday was a Tough Morning so didn't do to much, more People turning up so lots of Socializing! Evening out to the Bike Show! Just at the Entrance there was a Group of Young Thai's Stunting their Modified KSR's. I was impressed to See a Thai Girl doing an Amazing Job also, made it look so easy! I took a couple of Videos with My Phone so here they are! Pretty Cool I think!
embedded by Embedded Video


embedded by Embedded Video


Inside there were Loads of Stands selling the Usual Stuff. Good Displays from KTM, Ducati and Triumph.
KTM Enduro 690R

Ducati Diavel Chromo.

Lots of Familiar Faces to be seen. Had the Girls from "Harem Club" brought in on a Huge Bus, They all got up on stage so everyone could get a Look as they did a little Dance to Some Guy Singing!

The Guys Enjoyed it!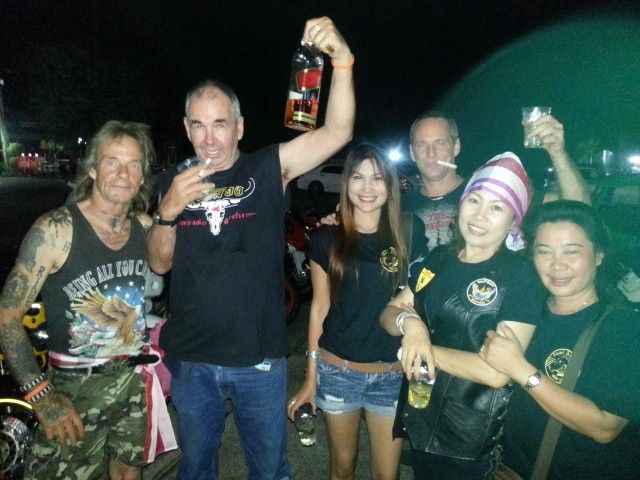 Another Big Night.
Sunday Morning Up and another slow Start! Had a Huge Downpour of Rain so delayed Our Departure time to around 12. Rode down to Phitsanulok for a Final Night of Partying!
Monday Morning it was up and Off Back to Chiang Mai! Another Great Loop of Esarn Completed! Now Time to Recover!!! The Riding is the Easy Bit! 5 Days of Drinking and Little Sleep Takes it's toll.
Cheers Ian.