After much Talking and many People saying Oh Yes I want to go to Laos Myself and kiwi John said OK We will Tag a long for a look as well! I didn't need to go but decided it might be nice go in a Group? Kiwi decided to use it as a Visa Run! Anyway as it Turned out there was Only 4 of Us who actually made the Trip and one was only in the Last Minute! Riders:
Myself on a KLX 250.
Kiwi John on a D-Tracker.
Tony BKK on His New Versys.
West on His KTM690 Motard.
Day 1:
Tony left Bangkok early and Rode up to Nan to meet Us. Myself, John & West left from the X-Centre after Breakfast and Rode up to Phayao then up to Nan. We arrived about 3pm and checked into the "Grand Mansion". Tony was already there so We showered then headed down to the River for Our First Beers of the Trip.


We had quite a few here before moving along a bit in the evening to the Beer Garden style place and a few more!


Meet a few people and had a Great time before heading back to Our Hotel. There is a Thai style Pub at the Entrance which seemed to be going well so We carried on there till the Wee Hours before crashing at some unremembered Hour?
Day 2:
Up early Loaded and Packed then off to refuel at the Shell Petrol station! This turned out to be a little Dramatic when Tony's Versys with Him on it happened to come off the Stand and fall over!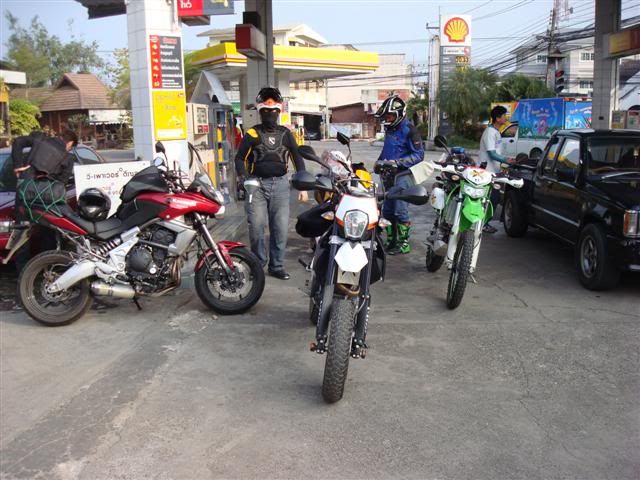 Falling against this Big Corner Box You can see in the Picture!


This Box then flew off and bashed into the side of this Car denting it's Guard!


The Owner was very Nice about the unfortunate affair and with a quick Visit to the local repair Shop Tony had Paid for the Repair Bill and We were on our way again. Breakfast at Hot Bread and on towards the Laos Border.
We stopped along the way to Pay Homage to the "Temple of Kawasaki"


The last stretch of Road to the Boarder is pretty knackered and is only Gravel. With a lot of Truck Traffic it is Bloody Dusty as well!!! Thai side was a Breeze with everyone very Helpful and Polite!
First You go into the Booth in front of Our Bikes in this Picture.


They do Your Passport here then You go to another office on the right side where You do the Documentation for Your Bike. All very fast and Efficient! Then You are off to the Laos Side! Now here be prepared to Wait!
Inside the Long Office Block they are not really that helpful and the signs are not the most prominent either?
I visited the Right Booth first, WRONG!
He sent Me to the Left Booth, WRONG!
He sent Me back to the Right Booth, Wrong!
Each time We had to stand behind a Cue of other people and wait Your Turn to be Told Go away??? Holding our best Manners and Patience We were finally Told to Go to the Middle Booth for our "Visa on Arrival" this should have been Step 1. Problem! There was Nobody in the Middle Booth???
So back to the right Booth!!! He eventually came out of His Domain to take a Look at the Middle Booth and Noted the Obvious "Nobody there"!!! So He proceeded to make a Phone Call and Talk for a While then Told Us to Wait! We did this of course as We had No Alternative!
Eventually an Elderly Gentleman appeared and was quite Pleasant and Helpful! He gave Us each Our "Visa's on arrival". This Proved a bit of a Laugh to Us as Myself and Kiwi John are from New Zealand so We Paid US$30 each. Tony is from the USA, He Paid US$35. West is from Canada, He had to Pay US$44. Canada obviously did something to annoy them at one stage? Anyway once We had this Visa We then went back to the Right Booth again, got Our arrival Stamp. Back to the Left Booth to have Our Bike Paperwork done. Back to the Right Booth to have the Bike Paperwork stamped! From here You go back to the Laos Guard Post and visit the First Shop on the Left as You enter Laos. This is where You Buy Your Laos Compulsory Insurance for Your bike! So from what I understand here is the Correct procedure laid out for You!
Step One: Inside the Long Building go to the Centre Booth to get You "Visa on Arrival" This is presuming You don't already have one?
Step Two: Go to the Booth on the Right and have Your Arrival Stamped.
Step Three: Go to the Booth on the Left to get Your Bike Paper work done.
Step Four: Go back to the Booth on the Right to get Your Bike Paperwork Stamped.
Step Five: Go to the First Shop on the Left as You come in the Laos Guard Post and get Your Compulsory Insurance.
Easy when You know how? This entire Process took quite some Time as You can imagine but We finally had everything and were ready to Go! Tony Displays His paper work!


Not far from the Border we Turned left and headed to Pak Beng. This Road is brilliant and newly Surfaced. There are also some stunning Views along the way and The Rice Paddies looked like what You would expect to see on a Postcard, Fantastic! Unfortunately I didn't stop for any Photos as after the hold ups i didn't want to lose any time? In Hind sight I should have taken the Photos as I never saw any Paddies as nice as this again! Anyway over a Brow I came and Hello No Road? I pulled up at a Dilapidated Structure which happened to be where You pay for the Ferry to take You across the River!


Never lost much time here so down We went to Board.


Quite a bit of Bull Dust on the way down but we all got on No Problem and across We went!


Off on the other side and back on the Road, Whole event only took maybe 20 minutes?
Leaving the Ferry.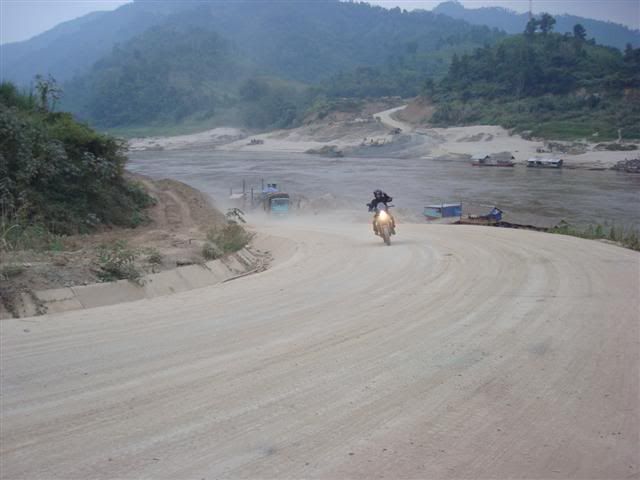 We carried on to Pak Beng and following the Signs and GPS we went up a real Shitty Gravel Road into Town which turned out to be the Back way in? We should of went past this and came into town from the other side but No Trouble we all arrived safely at 4:30 and checked into the "Villa Santisouk" Nice Rooms.
Cleaned up and had quite a few Beers and Food overlooking the River then went for a walk around. Ended up at the "Hive Bar" Nice Place with Good Music and a Lovely Proprietor!


We also meet up with another Group of Bikers here including Renzo from Bangkok! Renzo is quite famous and a very Colourful Character. He owns Giusto Restaurant and Wine Bar in BKK and is also opening the New Ducati Cafe beside the Ducati Dealership in Bangers. He was on His New Multistrada. Pretty Brave I thought with the condition of the Roads I would never take My Triumph Tiger there! Anyway the original Plan was to spend another night on the way to Luang Prabang but after chatting to Our Lovely Host She suggested we go straight to LP as there is nothing worth looking at in between?
Day 3:
Up early and had a Mediocre Breakfast then on the Road. We hadn't been going long when I came around a Corner and there was a Truck completely on My side and heading straight at Me FAST! There was not enough room to go inside at all so with No Where to go I just headed straight for the Drain on the Wrong side! Luckily the Truck braked and Headed after Me trying to Ensure He Run Me over and Gain his extra 10 Bonus Points!!! By doing this He made enough room for the other three bikes following to go inside which in fact was their side of the Road!!! If He had of kept His Course He could have Run over all three of them!!! I managed to Miss all Obstacles and Regained My Road position and Carried on! This all happened in Nano Seconds and it was just natural Reactions that saved Me! Tony happened to have His GO-Pro Camera on so caught the tail end of it on Video so I hope He posts it up!!! The Road was Brilliant all the Way to where You turn left before Oudom Xai. We refueled here and within a couple of kms the Road turned to Shit! I was Expecting it as Renzo had warned Us the Prior night! There is about 70 or more kms of Broken up Potholed Road which is pretty hard going and all the time watching for the Kamikaze Drivers! I nearly got cleaned up a second time when a Long Truck took a corner at Speed going Wide all the way to avoid the Potholes on His side! This Time He wasn't going to Brake or take Avoiding action!!! I just rode straight off the Side and rejoined none the worse later. John who was following said He had Nowhere to go either and did the same! Great Stuff! We stopped once to watch the Locals.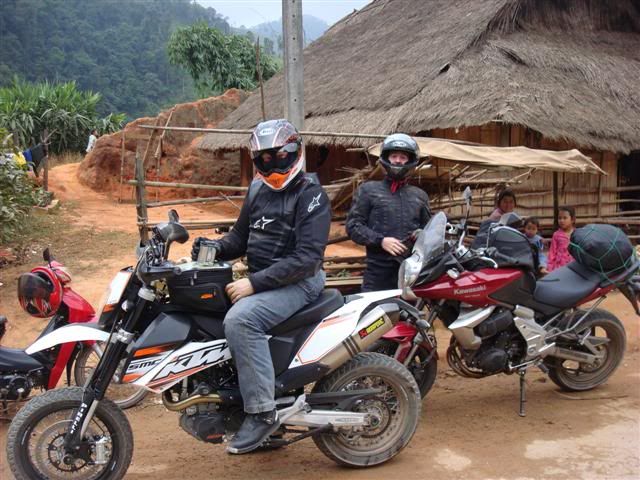 They were playing that Ball Game same as the Hilltribe in Thailand!


We saw a lot of very Colorful People throughout the day, Very nice! Stopped for a short rest at the top of a Hill.


While We were there a Guy from Malaysia turned up 0n a BMW F650GS so We chatted to Him!


After we had got through the 70 kms of Crap the Road was nice all the Way to Luang Prabang!

Finally arrived in LP and checked in to the "T.T. First House" This is a very nice place! Out for the Night on Our never ending Quest to find Cold Beer!!! Tony found a Fast Bike!


Evening We did the Rounds of Local Bars!


We happened to be in one bar for the Official Launch of LBC Soda! This is a direct Copy of the Singha Soda. They had some Laos Stars Performing. I am sure they were Lip Syncing?


We crossed a Long Bridge to go to a supposedly Great bar?


Turned out to be the Bridge to No-Where, No one there and a less than Pleasant atmosphere? We ended up sleeping about 12ish?
Day 4:
Up early, Breakfast, took a walk around. I saw this lady selling kindling to start Fires and thought it would make a Nice Photo but She didn't like it?


Slacked around for the Morning then decided to take a Boat trip. Mistake! This turned out to be the Slowest Driver in Asia and only opened the Throttle to drop Us off!!! Total Waste of Time!!!


Once We got back We decided to Hunt down the Bar recommended as Having Cold Beer. Took Us some Time but We finally found it!


But Alas No Cold Beer Today, Ice Needed!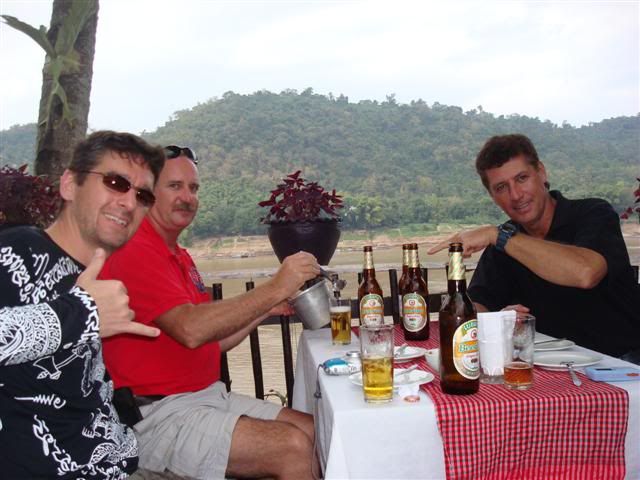 A Couple of things worth Noting on Laos,
It is next to Impossible to Find a Cold Beer anywhere? They have Fridges, Ice Boxes and Ice but are not keen on using either in the way they were intended? Fridges are often Turned off in the Mistaken attempt to save Power??? Ice Boxes are filled with Beer but the Ice is left in a Plastic Bag so doesn't actually Cool the beer???
The majority of the Population are Pheasant Poor and Live in Thatched Huts, by contrast the Roads are Full of New Top End SUV's! Landcruiser V8, Audi Q7, Lexus, Hummer, etc etc!!! All Driven By the Normal Mixture of NGOs, Missionaries and of Course the Government Officials!!! None of these People Do any Good at all except Line their own Pockets and Spend a Fortune of the Money Donated and Intended for the people!!! I doubt if they even Care about any of the Locals? They Drive Fast and have little concern for anyone else on the Road.
The Centre of the Road seems to be where everyone Drives, Buses and Trucks included and they are reluctant to give their position away? Quite difficult to Pass and they won't make it easy for You!!! Interesting Driving Actually?
Anyway back to the Trip. We had a Second Night in LP doing the Usual Haunts and watering Holes! Contrary to other people who recommended We miss Luang Prabang all together I Enjoyed it and had a great time and also had No Problem finding accommodation! Meet Lots of Nice People as well, both Local and Tourists!
Day 5:
We got up and Shock, Horror it was Raining!!! It had rained in the evening the last couple of Nights but this Morning it was Steady!!! We had breakfast and waited till 10am. The Rain had stopped so We loaded up and off we went! We didn't get far when it Started Raining again and it was Persistent!


The Higher We went the Colder it Got so Wet and Cold was the Order of the day!


We were heading to Vang Vieng and the Road was Incredible! Not so much Fun when it is Wet though. It eased up for a bit so I got a photo of the Winding Road below.


The Rain came back as We started Climbing again and this time it was accompanied by Wind and Fog. This meant very limited Visibility and Really COLD!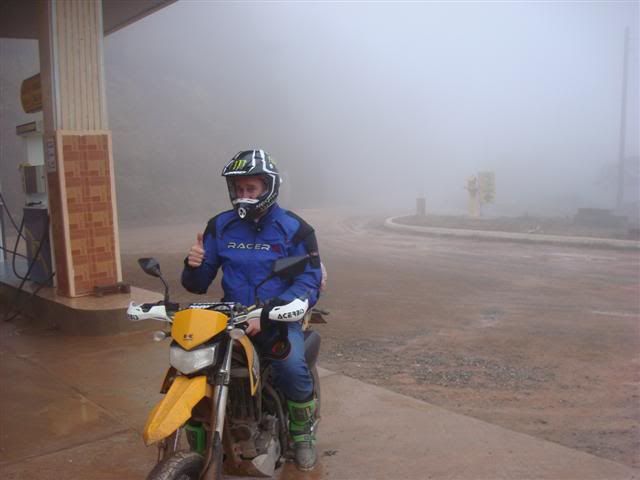 At this Gas station at about 1400 Metres there was thick Fog and the Wall was covered with a Variety of Moths, Very Odd.


Once We finally got down off the Mountains the Temperature warmed up and we almost got a few Bursts of Sun light! This was another thing that struck Me as Odd in Laos? It seems to be in a Perpetual state of twilight or Smog, Not Sure whether it is the Pollution from Burning everything or it was just Odd Weather on this Trip? The Sun is a very Rare sight like Cold Beer! Anyway there was still some Nice Views along the Way!


Great time for a Photo.


We arrived in Vang Vieng at 3:30 so had made good time considering the Conditions. Checked into the Grand View Guesthouse. Very Nice! The View from My Balcony. left.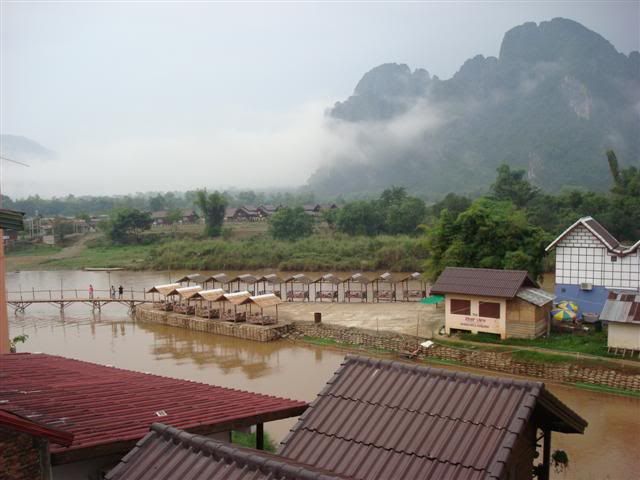 And to the Right.


After a Hot shower time for a Walk around to Check out this Famous Back Packers Destination!
First We went to the River to check out that. This is one of the Reasons they come here to Tube the River?


I personally can't see drifting down an Ice Cold River for 3 Hours in an Inner Tube as Exciting but each to their own? They also have Canoes for Hire.


The Deal is You pay Your Money, they Drive You up River and You drift down at Your own pace? Evidently there are Bars etc beside the River all the way down where You can stop and Drink or take Mind Altering substances of varying degrees and Hope You are coherent enough to Stop when You get to Town??? On more that one occasion this system Failed resulting in Drownings! I believe Drugs & Alcohol don't Mix with Water Sports any better than they do with Motorcycles??? It is interesting to See the Locals Fishing amongst the Tourists.


The Bridge over to the Bar Island will be lucky to see another Season!


In the Evening we came across the "Aussie Bar" Run by a Colorful Character Steve, a Refugee from the Bar Scene in Patong Beach, Phuket!!! He had a Aussie Barbecue going outside.


He also had to our Amazement COLD Beer!!!


Later We went to one of the Biggest Bars in Town "Lao Lao"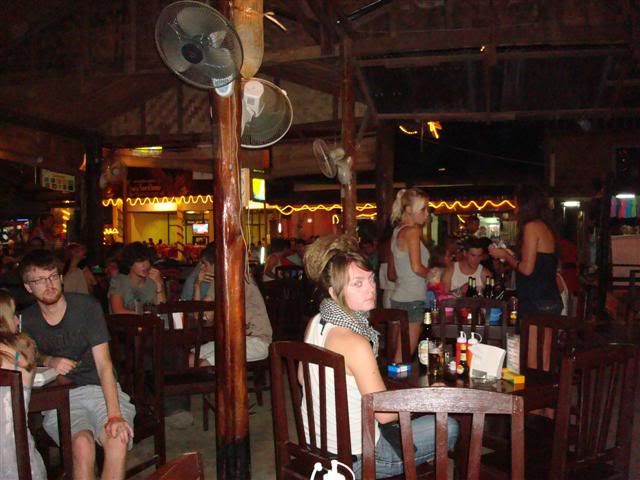 This was a neat experience and Full of Back Packers getting Hammered with Buckets of Cheap Alcohol and Mind Altering Substances! Great Stuff. Amazing to See some of them still Walking around in Bikinis from their Tubing Trip!!! Late Night again!
Day 6.
Up at 7:30, Left Our Guesthouse.


Breakfast at the Aussie Bar, Not Bad! On the Road to Vientiane! There was very little note worthy of this day? Stopped at the Newly opened Hinheup Bridge.


Obviously Paid for by the Japanese.


Carried on to Vientiane. Man I was Glad to be Out of that Town!!! Filthy, Hot, Dusty & Traffic Jammed place.
My GPS failed to Track a Route for this last day in Laos, in fact there wasn't even a map once I got to Vientiane so We had to just hope we were going in the correct direction and there was very little Signage to help! Luckily John had been there before so had some recollection of the way to the Friendship Bridge! Once We got there it was the Total Opposite of Our Entry and within 1/2 Hour We were back in Thailand and Miraculously My GPS had a Map again and could track??? So off We went on Our way to Loei. By Comparison to the Roads in Laos Thailand Has Race Tracks so our 250's were left Wanting on the Fast Straight Roads but we soldiered on while Tony and West disappeared into the distance! We arrived in Loei at 4pm and John Gooding was there to Meet us so Cold Beers in the King Hotel Cafe were the first order of the evening, Lovely!!!


Later we ventured down to the Steak and Pizza place for some Good Food and More Cold Beer. Meet the owner and a few other Guys there! One had just purchased this Custom Harley Davidson Fat Bob for around half the Cost of a new one! A Real Bargain.


Anyway the Guys were a bit Flat by this time so they went to bed early! Myself and Mr Gooding decided to have a Walk around but couldn't find anything with much action so ventured back to the Hotel! Here We meet a ZZ Top impersonator who convinced us to go to a karaoke with Him where once He saw the Girls drinking quickly left leaving Us with their Bill! Back to the Hotel again and finally went to bed!
Day 7:
We all meet in the Morning and John was Pretty Ill so We decided to go straight Home the Fastest way to avoid prolonging His Suffering. Left at 9am and only stopped for Fuel which was about every 140kms on Our KLX and I was back at the X-Centre at 3:30. Unpacked, Showered and Ice Cold Beer Time again! Great to be Home! That's it for Our Laos Trip so hope Tony lends some Photo's and Videos to the Post! Great Time and thanks for the Company Guys!!!
Cheers Ian.