After Much Hype and Publicity I Ordering My New Honda  CRF250L about a Week ago as soon as they were released in Thailand, I want to try it in Comparison to Our Kawasaki KLX250 as if We need more Bikes here in the Future I will know which one to Buy? last Saturday I picked it up after I had returned from the Harley Ride. I could have got it Thursday day so the Wait was actually only 1 Week! I received a New Index Helmet which was not Much! Straight to the Petrol station as it only had Fumes in the Tank. Bike is really quiet and runs really Smooth! In General the Finish and Quality I would say is better than the KLX? But there are some things I found surprising, like No Rev Counter, although this is pretty normal for Honda! Given it has a Digital Dash i wouldn't have thought it would have cost much to include it? No Folding Tip on the Gear Lever? So My next stop was Kawasaki and Brought a KLX Gear Lever with the Folding Tip to replace the Solid Honda One?
Honda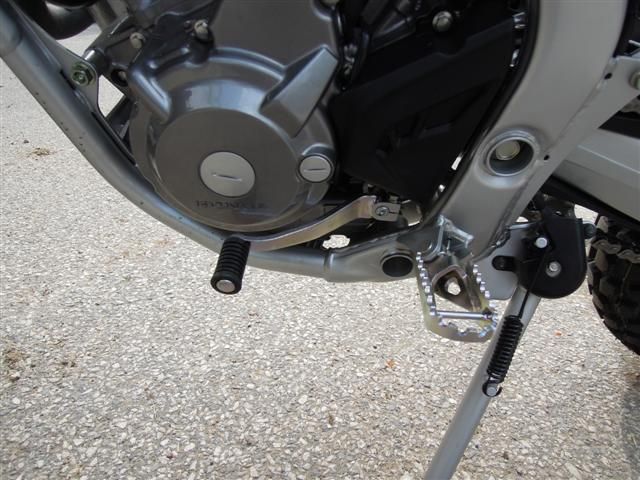 Kawasaki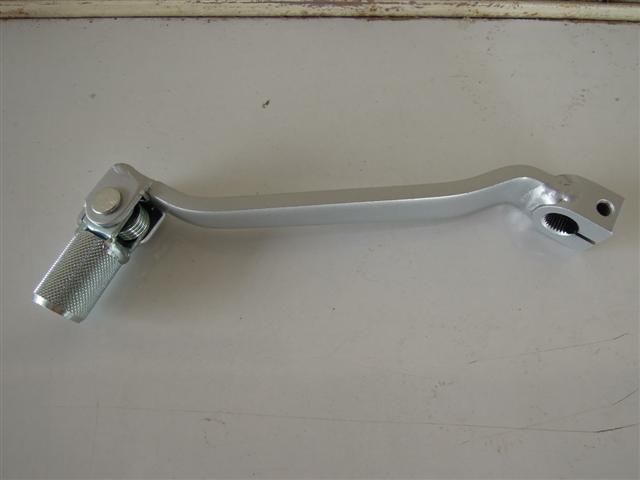 I also Brought some Hand Guards


Next went to the "Motocross Shop" by Triumph to get some Alloy Handle Bars to replace the standard Steel ones. The alloy ones are slightly Wider also.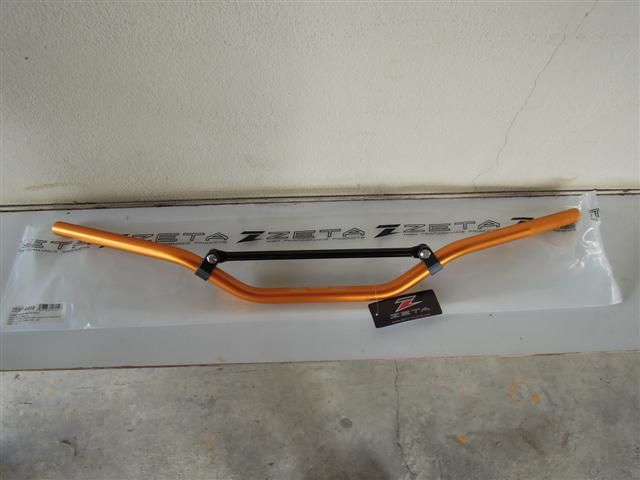 Back to the X-Centre to fit the Parts. I was keen to See if the Bike was Restricted in any way? So I gave it one Burst and it pulled to 125kmh and still going so no restriction there as the KLX when New wouldn't pass 105kmh!!! Once it is Run in should be able to know the Top speed and real Performance.
Nice Looking Bike and smooth clean Lines.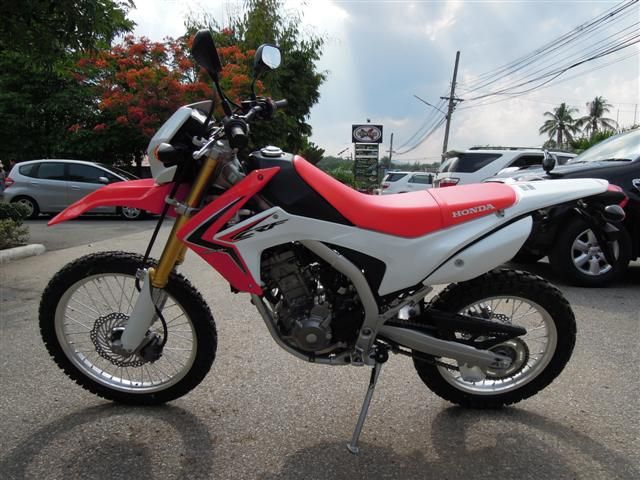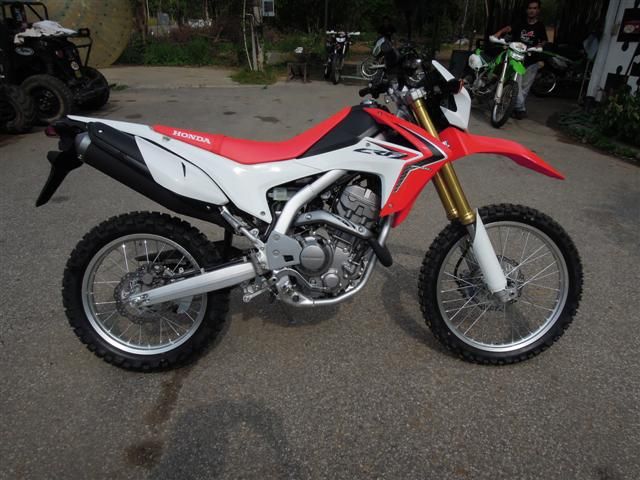 It has the Seat strap as most Bikes do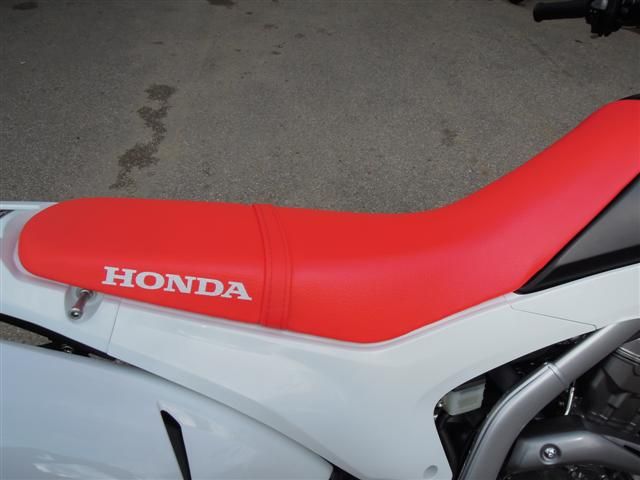 Which just happens to be right where most People Sit when on the Road!!! So I removed that.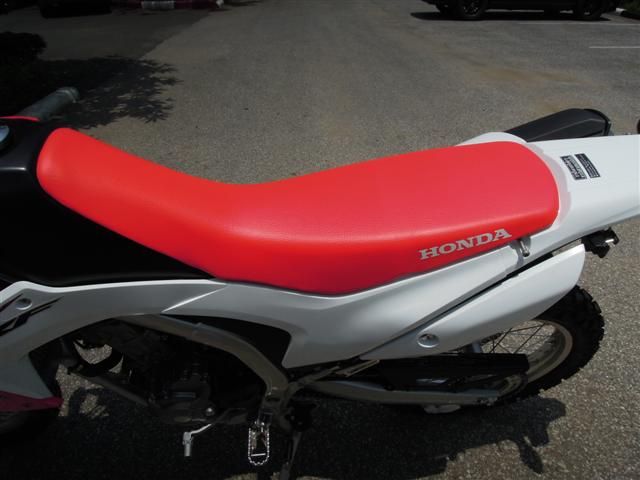 Standard Handle Bars.


To fit the New Alloy Bars takes a while as You have to Mark and Drill New Locating Holes for the Switch Gear and Throttle Control so a little bit of work but the End Result is much better, both in looks and protection for both the Levers and Your Hands.

Now the Gear lever required a bit More Work! I had to Re-Bend the KLX lever to Match the Honda one then Cut off the Spline Clamp and cut the lever to shorten it to Match! Then Re-weld the Spline Clamp and give it a new coat of Paint! The end result is worth it again!

The CRF only has one Radiator, It has been really Hot this week and I have noticed the Fan on when I was in Heavy Traffic around Town but I have never seen the Temperature Warning Light on so will have to wait and see if this is an Issue especially for some of the Guys who do the Really Serious Off Road stuff?
I Rode it around the Samoeng Loop and it handles better than My KLX and is incredibly Smooth! I have had a few Friends come out here and Ride both the CRF and My KLX which I think goes really well! They all preferred the CRF, I have actually had 4 Friends Order one since I got Mine and they tested it!!! Anyway what ever I am Very Happy with it and only Time will tell if it can stand up to a Good Thrashing over the Long term!
For Guys in Chiang Mai if You are unsure which Bike You would choose between the KLX and the CRF, POP Rental near Thapae Gate already has quite a few Brand New CRF for Rent so get together with a Mate and Rent one of Each then Run them back to back and swap around? I would be interested to hear which Bike most people prefer?
Good Luck Guys! By the way the Accessory Range is supposed to arrive end of next week? There is nothing available in the shop right now.
Cheers Ian