To follow up on the Memorial Ride we had here a couple of Months back in Memory of Our Mates:  Simon "Siinthai" Grant & John "TJ" Hamilton We had some Brass Plaques made up for the Trees We planted in Mae Hong Son in their Memory. One of Simon's Friends from Phuket, Steve was up so to fit in with His time here it was a bit of a Rush Job and I had a Steel Frame and Peg fabricated to Mount the Plaques on then it was Off to deliver them!!!
A Good Deed done by all, Wasn't such a Large Group as the Memorial Ride but for Me No Less Fun!!!  Fantastic Ride, Trip and Company!!! The Guys should be Proud of Us and I am sure they would have been Smiling the Entire two Days watching Our Antics!!!
We meet at the Kafe then off towards Doi Inthanon where We stopped to Wait for the Snail who had to do something in Chiang Mai and would catch Up.
Rex, Naomi & Steve.

Off up the Mountain We went and a Fantastic Ride We had all being on the Same Size Bikes. I was Laughing out Loud dicing with David all the way. Him on a D-Tracker and Myself on the Trusty KLX. Once up the Top We took a couple of Photos and discovered Rex hadn't been there before so Here is His Photo.


I had both Simon and TJ's Plaque Firmly Strapped to My Bike after fabricating a Frame and Steel Peg for them back at the X-Centre, and What a Ride they Got all the Way  Hope the Boys enjoyed it!!!

We didn't stay long so off back down the Mountain and down into Mae Chaem. I was still in the Flow from the Ride up so it just felt Perfect on the Nimble KLX blasting down the Hill. I waited for quite a while near the bottom but only Naomi turned up so we made our way into town and refueled and time for Lunch. This is when the rest turned up and I learned of Snail's Mishap. He had the misfortune of losing His D-Tracker on a gravel covered corner, He Proudly showed His Skinned Hands, Going Down an Extreme Rarity for Him!!!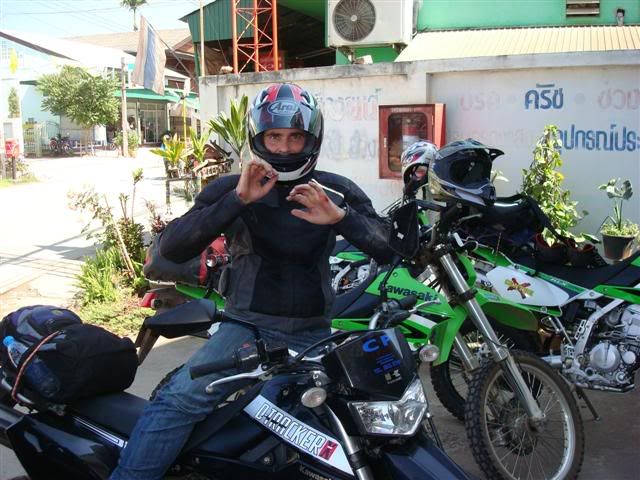 Lucky MotoRex had a Photo of Snail's Lay Down for Us to share!!!
Snail trying to get his bike out.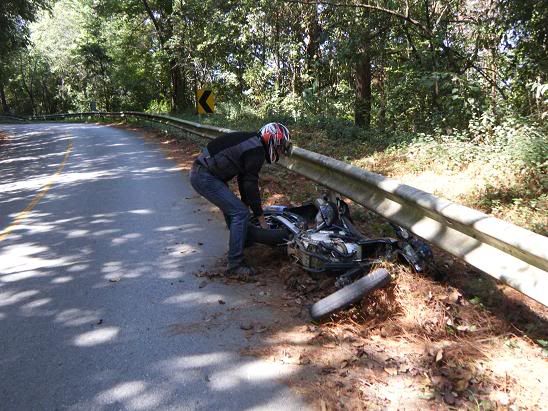 After Lunch We started out at an easy Pace which gradually picked up into the Fastest Ride I have Had to Mae Hon Song, Our Little 250's were Pinned and You would be amazed at How Fast they can be cornered. One of the Best Fun Rides I have ever Had. Both Myself and Snail were Surprising how little difference there is between the D-Tracker on Road Tyres and the KLX on Dual Purpose Tyres ?
Checked into Our Rooms and Time for a Beer!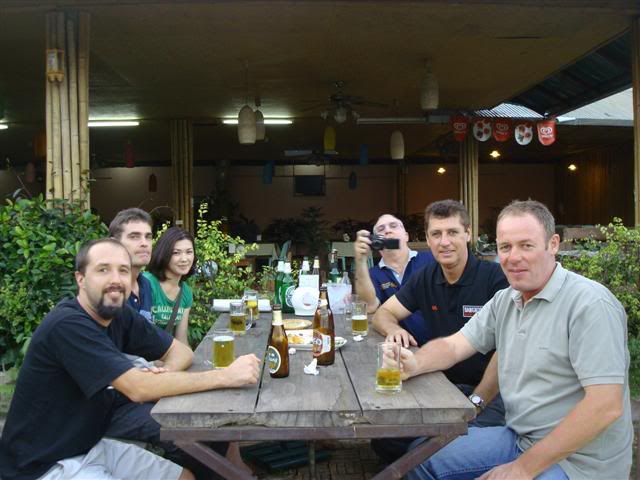 Decided to do the Plaque Placing then and there so off We went.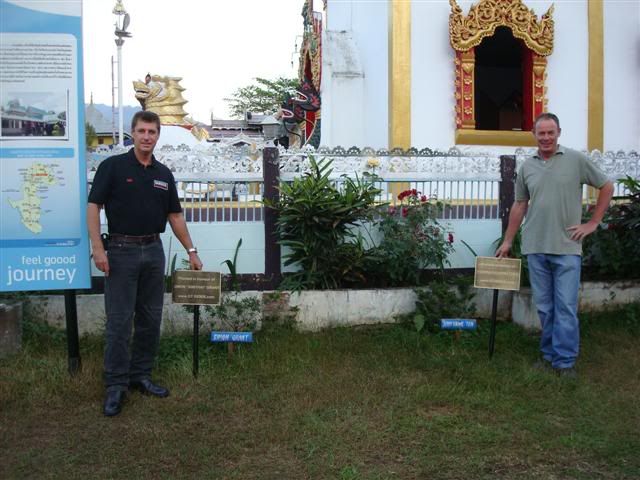 Simon's Plaque.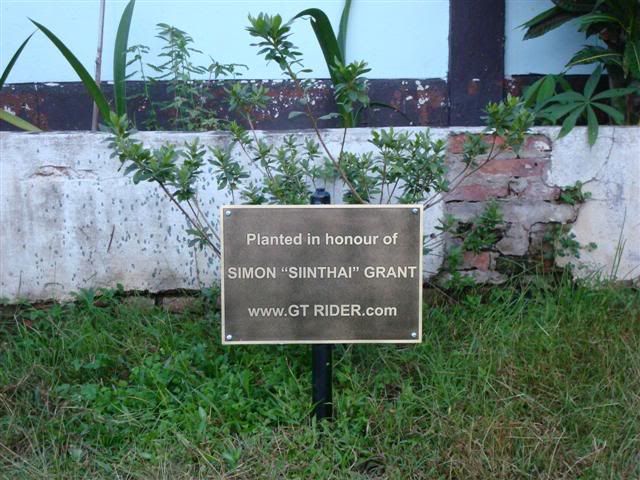 TJ's Plaque.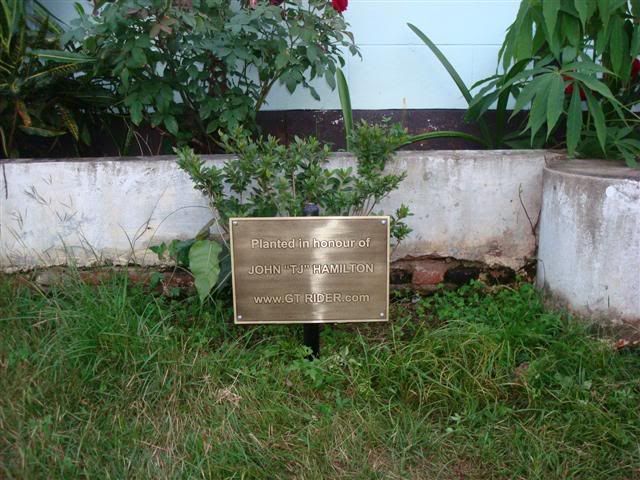 Group Photo after finishing!!!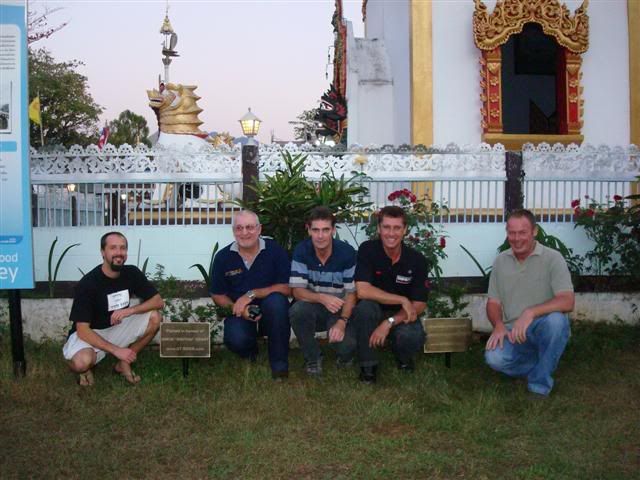 We even decided to Light some Lanterns for the Guys so up went two of these.

A Night Photo of the Temple where the Guys Memorial Trees are Planted!!! Beautiful!!!

A Photo of the Restaurant & Bars opposite where We Drank many a Toast the both Simon & TJ!!!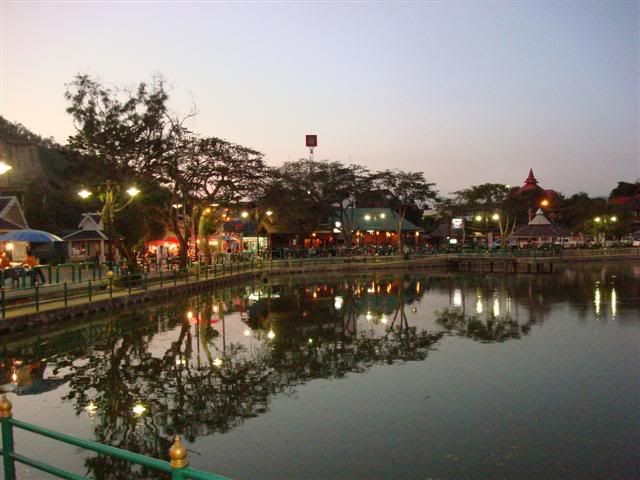 It was a Pretty Big Night and a lot of Fun. Next morning after Breakfast We all went Our own ways as i had things to do back in Chiang Mai. As I left Snail had a Departing Challenge saying He had got back from MHS to CM Years ago on His Old BMW in 2 Hours 54 Minutes. I never really thought about it at first as I enjoyed the Beautiful Morning and Great Ride but by the time I was at Soppong I was starting to get into the Flow again and Picking up the Pace. It is Just So much Fun on a Small Bike and So easy to throw around I was Flying by the time i got to Pai. Re-Fueled there and Off again!!! The Road was Pretty Slippery over the Mountain and I had some Great Slides Entering and Exiting the Corners. I was Buzzing all the Way. I refueled again with V-Power at the Shell Station where the Pai Road intersects the 107. Quick Blast back to the X-Centre and Time Check: 2 Hours 46 Minutes!!!
OK to be fair the Roads are probably better now and I only went to Mae Rim but The Snail did it on a Bigger Bike??? Still a Pretty Impressive Time
So To all You Guys out there who think a Big Bike is the Way to Go I suggest a Rethink!!! I Ride My 250's everyday and Prefer them everywhere except on Fast Long Trips where My Triumph Tiger comes into it's Own.
The Perfect Bike for this Country I believe is either a Enduro or Motard. You can get by on a 250cc but 400cc up would be the Best so You can have some More Speed on the Big Straights. Might I be so Bold to Suggest either the:
KTM 690 Enduro
or
Ducati Hypermotard 796
Lets See Who gives Us the Best Deal
If You would like to Read some other Reports and See some More photos on this event please  click here:
http://www.gt-rider.com/thailand-motorcycle-forum/planting-tjs-and-simons-memorial-plaques-in-mae-hong-son-t7146.html
_________________
Cheers Ian
www.chiangmai-xcentre.com/xcentre-news