Black Beauty is for Sale. Triumph Tiger 1050 ABS.
I Received it New in November 2007.
It has just Turned over 15.000 kms and had the Full Service done.
This Bike is in Mint Condition!!! 
There has been No Expense Spared for anything!!! 
Important also this Bike Has Never Been Down!!! 
Now Here is a List of the Numerous Extras:
Genuine Triumph Accessories:
Center Stand.
Luggage Tail Pack.
Tank Bag.
Computer Aftermarket Pipe Re-Map.
ThunderBike Accessories: ( www.thunderbike.co.nz )
Performance Exhaust Pipe.
Radiator / Oil Cooler Guard.
Tinted Sports Short Screen.
GSG Moto Accessories: ( http://gsg-moto.de/ )
Frame Sliders, Both Sides.
Engine Protectors, Both Sides.
RG Racing: ( www.rg-racing.com )
Front & Rear Axle Sliders.
Other Extras:
BMW Style Powerlet Plug. Dash Mounted.
K&N Air Filter, New just Fitted.
Brand New Michelin Pilot Road 2CT Tyres.
Brand New ECB Superbike Brake Pads Just Fitted. Spare Set Included.
I almost Forgot, All original Parts as well.
Genuine Full Triumph Workshop Manual also included for this Bike!!!  
Photos i just took this morning aren't the Best but You get the Idea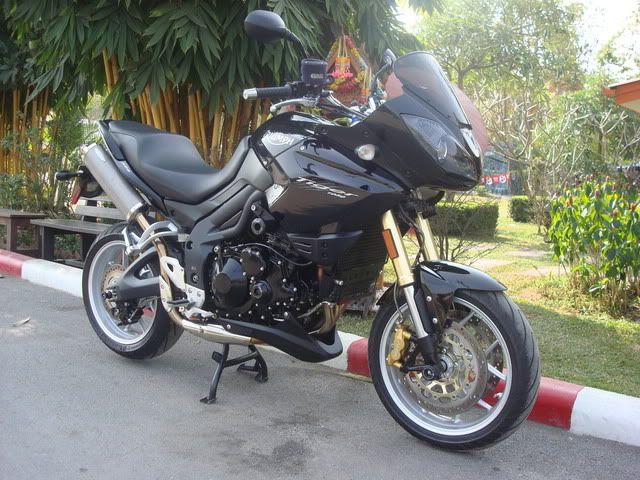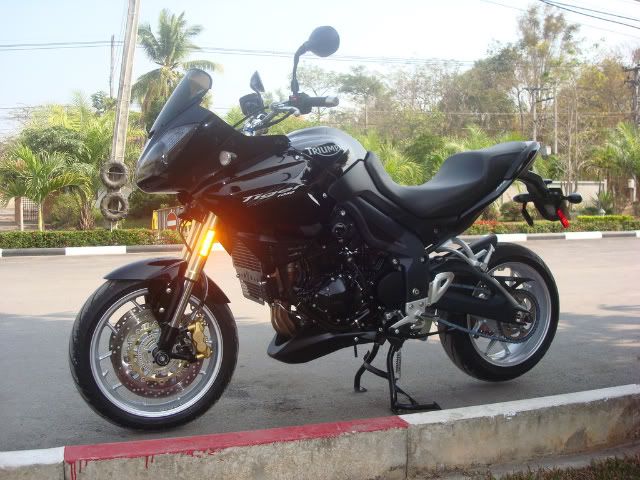 That about Covers it so if You have a Genuine Interest give me Private Email so we don't have to have a Public Debate on the Web Site? 
I am Open to a Sensible Offer, Have to Make Room for New Toys and I have been Given the Green Light to Sell it  .
_________________
Cheers Ian