It all started out innocently and with plenty of Notice so by the time Friday 20th of January came around there was a pretty large group of Riders leaving Chiang Mai to travel to the Udon Bike Party! First stop was at the PTT Station on the main road out of Chiang Mai for people to meet up.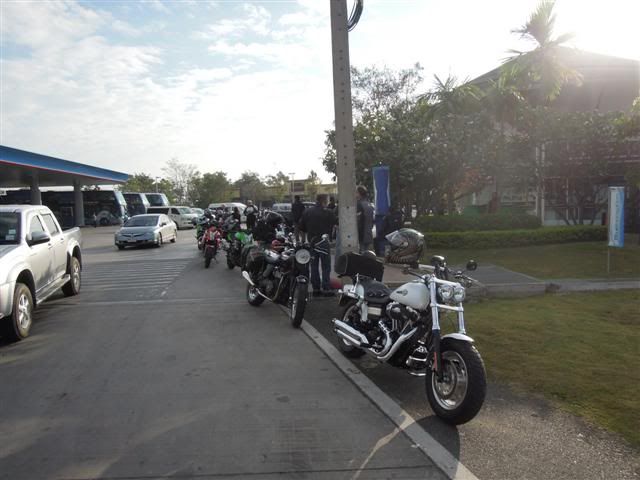 As there was quite a selection of different Bikes and riders We all just found our own little groups and pace so off We went. It was Cool Dull morning with a lot of Haze. Lampang was very dry and the Burning was obviously well underway! Great Ride all the way till We got near to Dan Sai where the Road was wet which spoiled things a little. After Lunch once We passed through Dan Sai it started to Rain and the road was very Wet and one of the Slipperiest I have ever ridden on. You had to be very careful using Your Brakes and I got a bit sideways on one corner! Even using the throttle was fun and I was still getting wheel spin up to 4th Gear! Very interesting Ride! We all ended up making it safely to Loei and checked into the King Hotel and Time to relax with a beer!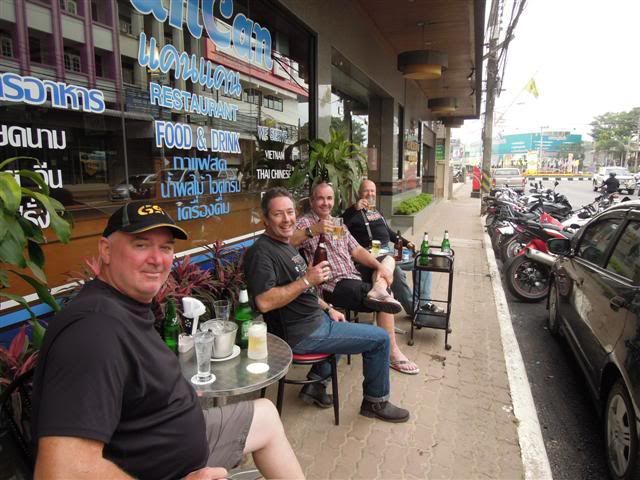 We were meet here by some of the Secret Soi Guys and Ross from Harley Davidson Bangkok and some Friends of His so a good night was had by most! Evening it continued to Rain quite a lot all night! So I got up early and went out side to a Dull Wet Morning!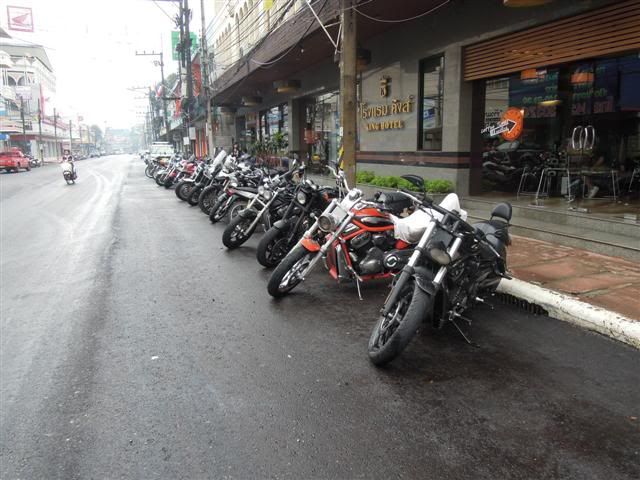 After Lunch everyone was deciding what route to take to Udonthani so given the Wet conditions I decided to join the Harley Guys for a straight run to Udon. It was a fun ride and not far out of Town the weather cleared up, great stuff! We stopped about 50 kms before Udon on the side of the Road and As it was one of the Groups Birthday it was time for a Celebratory Beer! This is about 11am!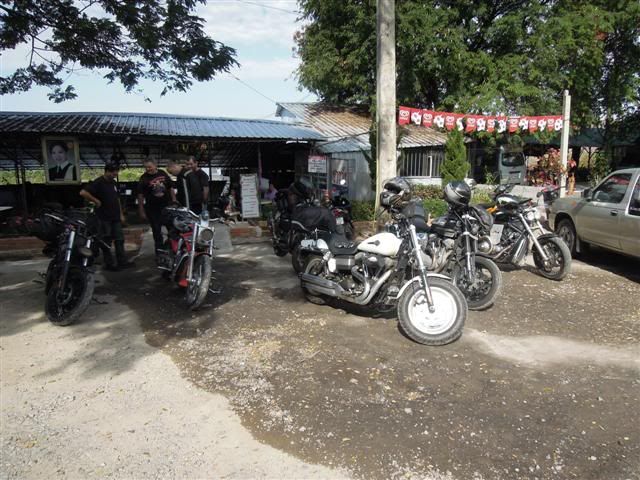 After maybe a Hour We headed into Town, checked into Our Hotels, had some Lunch and all meet up again at around 3pm at a Beer Bar and that was it for the Day! We carried on here till an unknown Hour with Great Music, Great Drinks and lots of Laughs.


As time wore on more of the others joined us so at some stages there was quite a Crowd in the Bar!
Richard whose Birthday it was got a Tattoo in memory of His Father. (There was a Tattoo shop in part of the Bar).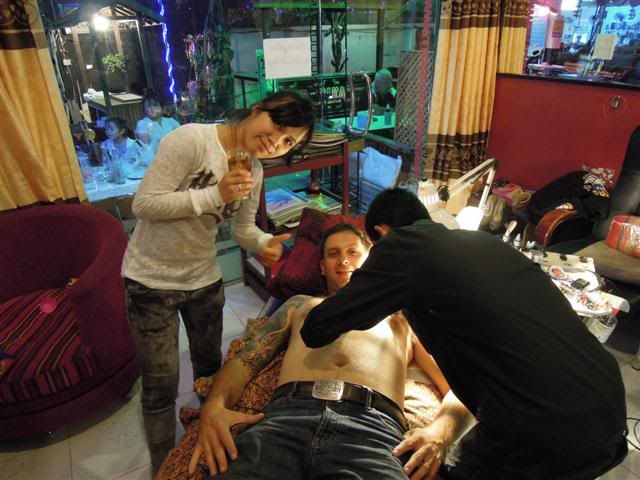 Showing Ross the the Finished Tattoo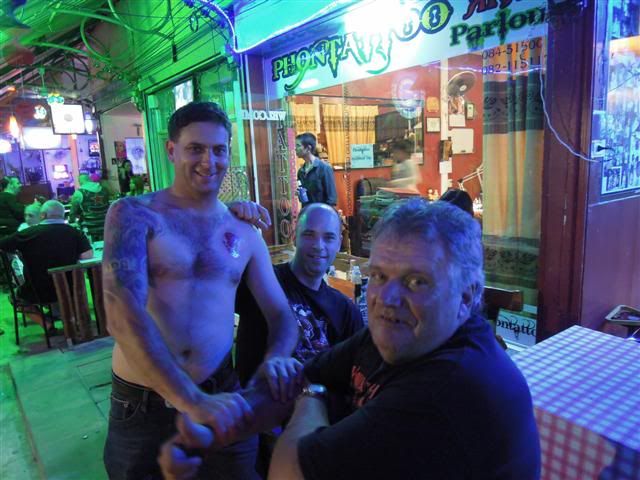 Now by this Time We had consumed a fair bit and I was pretty Hammered!!! So when I woke up in the morning I thought I had somehow managed to walk back to My Hotel and was surprised to find a Bike party shirt in My Room? I thought someone must have gave it to Me, very good of them? Later at Breakfast I was asked what I thought of the Show? Seems I went with some Guys after all? Amazing, a first for Me!!! I will blame it on Over Tired not the Drink of Course! I felt pretty Good actually and we all left Udon at 10am for our Ride To Phitsanulok. We took some Nice Roads bypassing Khon Kaen and coming out near Chum Phae. Beautiful Ride through the national Park and had a couple of stops along the way at some Nice Places, especially the Trendy "Route 12". Great views there and some Lunch, they even had Trailer Caravans out the back, very American Style!
We arrived in Phitsanulok at 4pm, Checked into the "Topland" Hotel. This was a Great Choice and had a Ripper of a Night! Our stay happened to Coincide with a University Graduation Prom Night and Chinese New Year so there was a continuous procession of Eye Candy for everyone to watch from the Lobby Bar! after 11pm some of Us ventured up to the 4th Floor Disco and Wow! I won't say much but we let when the Closed about 3am! Top Night indeed and on My List of Places to Stay again when in the Area!
I was up pretty Early and after Breakfast We all assembled downstairs for another 10am start! Another High Profile Guest at "Topland" was Ed Carabou who was having a Concert in town that Night! Ed is one of Thailand's most Famous Country and Rock Music Stars, He Graciously accepted an invitation for a Photo with the Guys and a chat. Seemed a Genuine Nice Guy, and he also owns a Harley!!!


We left on time and headed towards Sukhothai and took some secondary roads eventually coming out back onto the 11 near Den Chai right by this Wood Works so decided to take a look.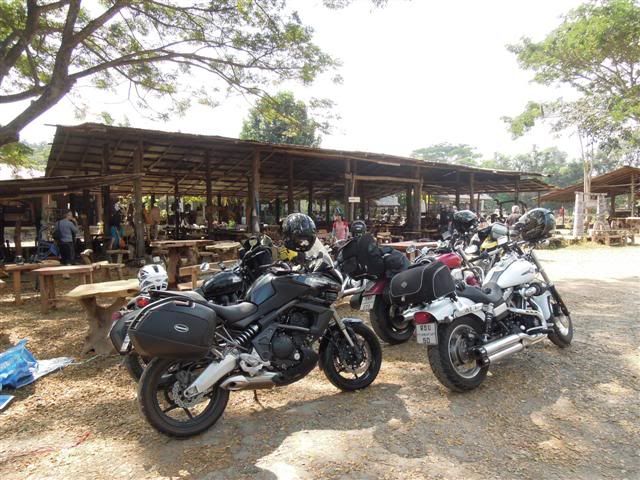 They have been collecting Old Logs, Stumps etc left over from the Logging and making a variety of Furniture and other items from the Wood. Quite interesting! They also had a Pile of Old Buffalo Kart Wheels some as Old as 300 Years the man Claimed! They were for sale at 2400 Baht per Wheel if anyone is interested?
Richard checked them out but decided they wouldn't fit His New Versys?


From here We all rode off at Our own Pace back Home. I got back to the X-Centre at around 2:30pm so I had enough time to give My Harley a Good Clean before 5 Mates Turned up for afternoon Beers so it all started again!
So that was it, the Rest is History and I can't Wait for the Next Ride! Thanks to all those I Rode and Drank with and Apologies to those I can't Remember from Saturday Night!!! Top Stuff!!!